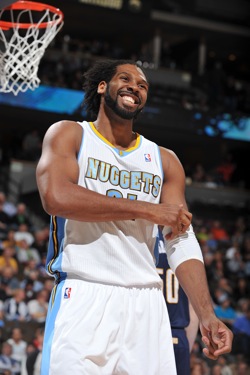 Posted by Royce Young
This was a Shootaround item,
but I felt the need to extrapolate a bit more on it.
Ken Berger reported
that
Nuggets
center Nene is unhappy with the protracted
Carmelo Anthony
situation and could be looking to move on from Denver.
Nene
, like Carmelo, has an early termination option and could make himself an unrestricted free agent this summer. The Nuggets might be looking at a similar situation with Nene: they need to move him and get something back, rather just watch him walk for nothing.
Berger said Nene has three teams that he's eying and listed one as the
Heat
. It's probably unlikely the Heat have the pieces to put together a realistic trade for Nene that Denver would go for, but still, Nene on the Heat is a scary thought.
Marc Stein of ESPN tweeted
that a second team on Nene's list is the Dallas
Mavericks
. He also said the third remains a mystery right now, but assured that the
Rockets
would be players in trying to acquire Nene.
But who could the third team be? The Mavs have some good pieces to make such a move, but why would they?
Tyson Chandler
is having a great year and behind them they have
Brendan Haywood
, who's making a lot of money to play backup. Even if the Mavs were just renting Nene for a few months, that's a pretty good logjam inside.
One team that could be a player for Nene is the Oklahoma City
Thunder
. They have assets in future first-round picks, a nice expiring contract in
Morris Peterson
and could potentially offer back a quality young player like
Cole Aldrich
or
D.J. White
. The question would be if the Thunder would be interested in re-signing Nene to an extension though, seeing as they still have to solve the
Jeff Green
contract situation and also extend
Russell Westbrook
this summer.
More than likely, Oklahoma City doesn't make that move because of the way Sam Presti approaches the future. He prefers to draft and develop, rather than trade away young players. If Nene could be had just for an expiring contract and a pick, it's a possible move for OKC. But Denver's going to want more than that.
Another potential third team on the list? the
Trail Blazers
. Portland has
Joel Przybilla
's expiring contract, and decent young assets like
Luke Babbitt
, Eliot Williams and Patty Mills, plus future picks. Or toss in
Andre Miller
, who the team wants to move. (Though Miller and
Chauncey Billups
together doesn't make a ton of sense. Maybe they could flip Miller again for something else.) Again, the Nuggets would probably ask for
Nicolas Batum
, who they've had a fascination with lately, but Portland's not budging on him.
The Blazers could certainly use Nene though, you know, because of the injuries and all. Nene would have the opportunity to remain a starter and really would become an offensive focus for Portland. He'd probably have to live in fear that his knees might spontaneously combust, but the Blazers would be a nice fit.
Lastly, two other teams I'll throw in that could be fits: Phoenix and Golden State. Nene would work well in both systems and both teams would love to have a player of his caliber. The question is whether or not either could put together a satisfactory trade for Denver.
In the end, Denver is going to have to look long and hard concerning its future with Nene. He might be willing to re-sign, but apparently he's soured on the team a bit now and might be looking for something else. Denver's got to figure out his future, along with Carmelo, and make a decision.
It's been a fun first few months for Masai Ujiri, hasn't it?