Utah Jazz point guard Deron Williams expresses some reservations about the team's future. Posted by Ben Golliver.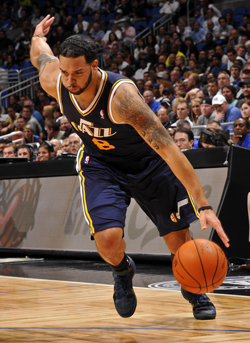 The
Carmelo Anthony
trade talks are in a bit of a lull, so to help fill the space let's take a crack at which NBA superstar will be the next to hijack the league's media coverage with his desire to change teams. The top early candidates, obviously, are Orlando
Magic
center
Dwight Howard
and New Orleans
Hornets
point guard
Chris Paul
, but
NBA.com reports
that we shouldn't count out Utah Jazz point guard Deron Williams.
"It should be happening by now," Williams said last week. "We've just got to figure it out. We can't just come out and expect teams to give us games."
The "it" in Williams' mind is the maddening inconsistency of the Jazz, culminating in Utah's 0-fer road trip, including bad losses at Washington and New Jersey.
The Jazz have lost four straight, dropped to second place in the Northwest Division and are just 4-6 in their last 10 games. Things could be a lot worse, no doubt, but 2011 conventional wisdom says that NBA superstars aren't content to count their blessings, instead intent on finding greener pastures.
NBA.com also notes
that Williams was frustrated with all of the roster turnover this summer, which included guard
Wesley Matthews
being signed by the Portland
Trail Blazers
, and
Kyle Korver
and
Carlos Boozer
departing to the Chicago
Bulls
.
"We lost Wes, we lost Kyle, we lost Booze, and it was like, 'What are we going to do?' And we bounced back and we added some good guys. We added Al, we added Earl, we picked up Gordon (Hayward) and Jeremy (Evans) in the Draft, and they've been two bright additions to the team. And I was pleased. We got Raj."
But is Utah as good defensively as it used to be? And does this team have the luxury of working all those new players in?
"Not really," Williams said. "My contract's up in two years. It's a now or never situation. I don't know what I'm going to do after this one."
Guh. That's a tough load to take for Utah fans, as Williams' words read like a soft ultimatum. Essentially: Get me help, or else.
Utah has historically been one of the best run franchises in the league, however it's a difficult destination to land a high-profile free agent. Ownership has expressed a desire to be financially prudent, which makes it difficult to compete with the Los Angeles
Lakers
and Boston
Celtics
of the world given the size of the Salt Lake City market.
The best case scenario for Utah fans: a new collective bargaining agreement that includes a franchise tag that would help keep Williams in a Jazz uniform.
The worst case scenario? Just look across the Rocky Mountains.