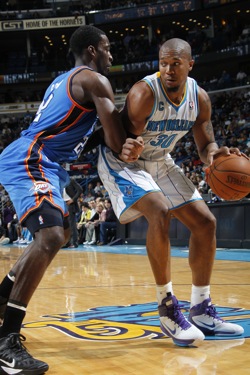 Posted by Royce Young
At some point, we're going to have to talk about every player out there that can become a free agent this summer. So this time, it's
David West
.
West has an early termination option in his contract that will allow him to become a free agent July 1. West's current deal decreases each season and it will go from $8.28 million this season to $7.52 million for 2011-12. That's why most believe he will exercise the option and become a free agent, even though it will coincide with a new collective bargaining agreement, instead of signing a new deal.
A risk, but one it sounds like West is willing to take. Especially since it doesn't look like he'll be getting an extension from the
Hornets
right now,
according to Yahoo! Sports.
Reportedly, there is an extension offer from general manager Dell Demps currently, but West has decided not to deal with that stuff until after the season. So in other words, if this was Denver, we'd all be freaking out and trying to trade him, right?
"I've been saying the same thing: I'm just going to wait until the end of the year, and I want to make the best decision I can make in terms of my future," West told
The Times-Picayune
Monday night. "I've had an opportunity to talk with Dell. We have an understanding in terms of what's out there, but I'm just going to play ball right now."
Funny how that's like the same thing we heard from people before. West may very well sign in New Orleans again over the summer, but he's saying things that have made others try and trade their stars.
What's interesting though, is how this situation will be handled with the NBA owning the Hornets. West's contract will be the first big one the league will have to figure out and with the team in New Orleans for a while longer after meeting the attendance benchmark, it's something people will have their eye closely on.
As for West, he's probably curious as to what teammate Chris Paul is thinking. Being down in New Orleans could be a pretty lonely place without CP3 and West knows it. So he's waiting for the summer, risking some money and weighing his options. I think we've heard this story before.