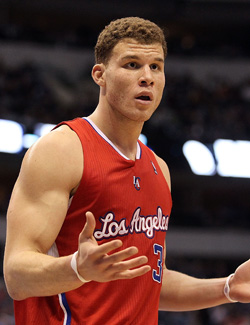 Blake Griffin falls awkwardly in loss to Mavericks, X-Rays negative.
Posted by Matt Moore
X-Rays for Blake Griffin's arm were negative tonight,
he's listed as having suffered a left elbow contusion
in the
Clippers
' loss to Dallas Tuesday night. Griffin wrapped around
Brendan Haywood
on the baseline in the third quarter, was tripped and landed awkwardly on his arm. It was yet another in a series of violent collisions with the ground for Griffin. It's the one concern in what has been a historic season for Griffin who is close to securing an All-Star birth. He's either colliding violently with the rim or crashing to the earth. And with every destructive dunk the defense becomes more and more inclined to put Griffin on his back.
So far he's been impervious to injury after breaking his kneecap before his rookie season. But things like this make you nervous for his future if he keeps crashing to the floor like that.
Griffin is listed day-to-day. We'll keep you updated on his status. Clipper fans, exhale. Well, except for
Eric Gordon
's
injury
. You can keep not breathing on that one.