Charles Barkley names his pick for best point guard, A Magic writer keeps Dwight Howard's future in perspective, the Jazz take another top loss, Billy Hunter warns the Sacramento Kings to save money and Kendrick Perkins' tough road back to the court is remembered. Posted by Ben Golliver.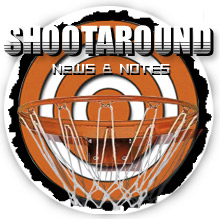 There have been some very early reports that Dwight Howard might fly the coop in Orlando when he's able to be a free agent, but Orlando Pinstriped Post argues that it could be worse for Magic fans, as Utah Jazz guard Deron Williams has already turned up his rhetoric. "Williams' remarks illustrate that Orlando doesn't quite have it so bad with Howard. Apart from complaining about his teammates' defense--something he's obviously entitled to do, given the accuracy of his statements and his status as a team co-captain--Howard's at least remained neutral about his pending free agency.
Speaking of the Jazz, they've been struggling, and got crushed by the Lakers last night. Raja Bell tries to explain things to the Salt Lake Tribune, "We just lost our swagger somewhere along the lines. You know, we start pressing, we start trying to do everything so right that it backfires. I think it's a tough way to play."
Beyond The Beat catches up with the Sacramento Kings regarding an impending work stoppage. "It could take a year. It could take a day. We really don't know, but I know it's a serious issue and I can see them (players' association) pushing a lockout," Carl Landry told Beyond the Beat. "He (Hunter) forewarned us that there might be a lockout in effect, and he shared different ideas that will help prepare us for the lockout. They (players' association) are there for us and are already thinking about different contestants and things that will help the players."
Former Seattle SuperSonics guard Gary Payton says he does not support the Oklahoma City Thunder in any way, notes the Seattle PI. "He would not attend an alumni event in Oklahoma City if invited. 'I didn't play in Oklahoma City,' he said. 'That would be disrespect to Seattle fans. We never played there. Why would we go to Oklahoma City and give the fans that opportunity or privilege?'"
Good news for Hornets fans: AFP reports that the team won't be going anywhere. "The NBA New Orleans Hornets will remain in the Louisiana city for at least another season after meeting an attendance goal that prevents an escape clause activation in their arena lease."
The Heat Index investigates what using LeBron James as a power forward will look like for the Miami Heat.