The Denver Nuggets are reportedly re-thinking their interest in New York Knicks forward Anthony Randolph. Posted by Ben Golliver.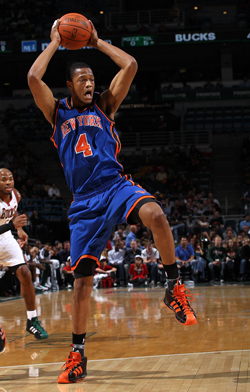 Back when the New Jersey
Nets
and owner Mikhail Prokhorov
walked away
from the
Carmelo Anthony
trade talks, I noted that it was time for the Denver Nuggets to re-assess their feelings about the trade assets placed on the table by the New York Knicks had placed, as they would likely represent the best available offer.
On Wednesday,
Ken Berger of CBSSports.com reports
that the Nuggets are apparently doing just that, kicking the tires on seldom-used, super-long forward Anthony Randolph.
While Nuggets officials continue to weigh their options, a person familiar with the team's strategy told CBSSports.com Wednesday that there are indications Denver could be warming to the idea of trading Melo to the Knicks. One component of such a trade, the source said, would be Anthony Randolph, with Denver officials apparently coming around in their opinion about the 21-year-old big man.
Earlier in the process, Nuggets executives were not high on Randolph, viewing him as mistake-prone and too much of a project. But that was when the Nets had 2010 No. 3 pick Derrick Favors on the table as the centerpiece of a package that far exceeded what the Knicks could offer. With New Jersey out of the mix, at least for now, the Nuggets have begun to internally re-examine the Knicks' young players.
On the plus side: George Karl can coach anybody. Literally anybody. So there's that. Also, Randolph is bound to be more productive when he leaves New York, as he's yet to make three shots in a game this season and has appeared in only 14 games.
The biggest problem here is that the idea of Anthony Randolph is so much better than the actual Anthony Randolph, or even the first round pick which he can supposedly command on the open market. You're telling me you want to pair Randolph -- an emotional, young player still struggling to find an NBA identity and position -- with
J.R. Smith
? That idea alone seems like it should give Nuggets GM Masai Ujiri reason to pause. And then push stop. And then hit eject.
Denver is stuck, though, as beggars can't be choosers. Carmelo Anthony's departure is a given. After that, their frontcourt could be next to go, as Berger also recently reported that Nene is
making noise about leaving
. Even if you keep Nene, who surrounds him? Both
Kenyon Martin
and
Chris Andersen
are getting up there in age and injury issues.
Al Harrington
is under contract long enough, but he's not a low-post guy you can count on. The rest are role-playing scraps.
In other words, addressing the frontcourt should be a top priority in any Carmelo Anthony trade. But Randolph, as spindly as they come and not known for his rebounding prowess, doesn't do much to address the issue. Denver has been known as much for its physical interior play as it has been for Anthony's scoring in recent years, and they should make maintaining that identity a top priority in their post-Anthony reality. Randolph, a face-up player with a fairly versatile offensive game, just doesn't seem like a proper fit.