Orlando Magic point guard Jason Williams deserted his team and has been released. Posted by Ben Golliver.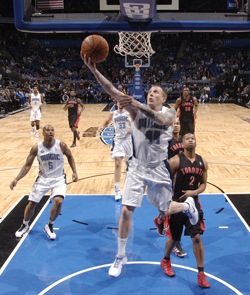 Update (6:56 PM)
: So much for taking the patient approach. The Orlando Magic announced Wednesday afternoon that they had released Williams.
------------------------
There are many ways that the NBA is unlike your job, but there is one crucial similarity: showing up matters.
According to the Orlando Sentinel
, Magic point guard Jason Williams has apparently not clocked in and not informed his bosses why he hasn't clocked in, and that's a big no-no even in the world of professional basketball. The Magic are currently on a road trip and Williams is not in attendance, leaving president Otis Smith a bit peeved.
"Well, he's not with the team. We'll deal with him when we get back to Orlando."
Asked if Williams has asked for his release, Smith said, "Not so much in those terms. You say his 'release,' we're not into giving guys their release. He signed a contract to play basketball for the Orlando Magic, and we're expecting him to uphold his end of that deal."

Asked if Williams is balking at his limited playing time or is facing a personal issue, Smith said, "From what I gather, he's facing more of a personal issue. I don't know if he wants more playing time. That was talked to him about before we signed him. When we signed him, we signed him as a third point guard. That didn't necessarily change."
Williams has barely played this season, and was further squeezed out of any chance at truly cracking the rotation when Smith traded for
Gilbert Arenas
. Barring another franchise-altering trade, Williams doesn't figure to see the court any time soon, given that he's behind starter
Jameer Nelson
, solid backup
Chris Duhon
and Arenas, unless there's a major injury (really, a series of injuries).
While his disappearing act is disappointing, his unhappiness is no great surprise as Williams mentioned earlier this season that he was considering leaving the game due to ongoing foot problems.
So far, Smith has played a sticky situation spot on: Defuse the initial news, express his unhappiness with Williams' lack of professionalism and realize that he holds all the cards. Releasing Williams would be detrimental to Orlando's depth chart and a contender can't make a habit of doing professional favors for its scrubs in the thick of a hotly-contested playoff chase.
The most important thing to result from the situation is to establish a clear conduct standard for the rest of the players. Williams has always been a bit of a loose cannon; he's not worth compromising your culture in any way from a basketball or locker room standpoint. Barring a remarkable explanation regarding the health/well-being of a close family member, a fine and possible short-term suspension without pay is in order.
If Williams is truly ready to give up on his career, then there's not much Smith can do to prevent that. He will almost certainly regret a decision to leave the game come playoff time, and hopefully someone close to him is whispering that in Williams' ear right now, wherever he might be.