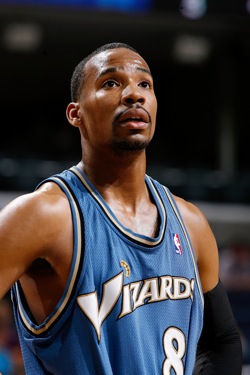 Posted by Royce Young
You've probably forgotten about Javaris Crittenton, but he hasn't stopped trying to come back. After a failed stint with the
Bobcats
during training camp before this season, he played a short time in China. That didn't go all that well, despite the fact he averaged 25.8 points per game.
So Crittenton is trying another route. The D-League.
Via a report from Fanhouse,
Crittenton will sign with the Dakota
Wizards
. Of course the Wizards are the D-League affiliate of the Washington Wizards and Memphis
Grizzlies
, the last two NBA franchises Crittenton was a part of with Washington being where he had his incident with
Gilbert Arenas
.
Crittenton has skill and at 6-5, should be able to make an impact on someone's roster. It's just never come together for him. He was drafted in the first round by the
Lakers
in 2007 and was traded to Memphis in the deal that brought Los Angeles
Pau Gasol
. From there Crittenton was sent to Washington where the rest became embarrassing history for him.
Crittenton was said to be
the nation's best point guard of his high school class
and took those talents to Georgia Tech for just one year. In 113 career games Crittenton has averaged 5.3 points, 2.4 rebounds and 1.8 assists in 16.4 minutes per game.
This might be one of the last shots Crittenton really has to make it though. He used up a number of chances and has failed to make the most of them. Again, he has talent. He has ability. He has size, speed and athleticism. But he's been branded with the dreaed "character issue" tag and has never lived up anywhere near his potential.
But he's still plugging away and in a league where second, third and fourth chances are handed out regularly, it's not that hard to see a call up in Crittenton's future.