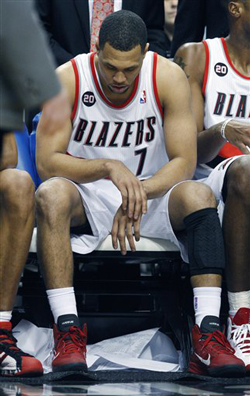 Posted by Royce Young
Brandon Roy
is making a little bit of progress. Not necessarily with his health and knee problems, but with his mental state.
A couple months ago, Roy appeared to be having issues accepting his lingering knee problems that are going to affect his career from here on out. He didn't understand why he couldn't just keep playing.
But in speaking with 95.5 The Game in Portland,
Roy admitted what we all really already know.
"Well I don't think medically I will ever be able to get back to 100%. The doctors do feel confident that I can get back to a high level of basketball. I don't want to say to an all-star level because coaches boast those things every year and different guys deserve them but they do feel like I can get to that level where I can continue to help this team and produce at a high level. Now we are just trying to figure some things out to try to calm the knees down.

They feel good now and the biggest thing now is going to be once I start playing basketball day-in and day-out how they feel, but I am confident that I can get back to a high level but the biggest thing is that I don't get a ahead of myself right now and continue to take it slow and really listen to the doctors. I think in the past there was times I maybe had stepped on their toes a little bit and try to rush back but this time I am trying to be patient and really listen to them."

Roy still has visions of getting back to a really productive level and why shouldn't he? His career isn't over yet. He's still young. He's going to have to overcome some pretty serious adversity, but nothing says he can't reinvent himself as a new player that does new things. He might not be the Brandon Roy that I fell in love with over his first few years, but he can still play.
Roy has missed the past few weeks because of the knee issues. He's been sitting resting the knee following another arthroscopic procedure, hopefully giving him the chance to get back and play for the Blazers during their stretch run. However, there was an option of season-ending surgery on the table, but Roy continues to remain optimistic.