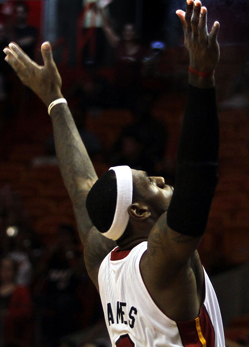 Posted by Royce Young
If you were ever wondering what kind of impact a couple big name players can have on franchise value, you have your answer.
Forbes released the estimated values for all 30 NBA franchises
and taking the top spot from the Los Angeles
Lakers
are the New York
Knicks
who are worth $655 million, up 12 percent from last season. (Last season the Knicks were valued at $586 million.)
Maybe more interesting than that though are the tales of Cleveland and Miami. Who would've thought
LeBron James
would have such an impact on the dollars and cents of a franchise? According to the report, no player in the NBA's 64-year history has had quite the impact on a franchise as LeBron.
LeBron's decision to go to Miami accounted for the biggest gain and drop in team values. The
Heat
bumped up 17 percent to $425 million (seventh) while the Cavs fell
26 percent
to $355 million (15th). That's pretty incredible.
The report made mention of the elephant in the room, meaning lockout talk.
However, if NBA commissioner David Stern gets his way, an imbecile would be able to make money running a team. Stern wants to lop $750 million off of player costs, lowering the portion of basketball-related revenue that goes to players from 57 percent to around 40 percent.

If Stern succeeds, even teams like the Hornets, who were thought to be headed for bankruptcy before the NBA rescued the franchise, would immediately rise at least 30 percent in value because potential buyers would know they don't run the risk of writing checks to cover operating losses.

So the Knicks are No.1 and the Lakers No. 2. They are followed by Chicago ($511) million, Boston ($452 million) and Houston ($443 million). The bottom five are the New Orleans Hornets ($280 million), Indiana
Pacers
($269 million), Memphis
Grizzlies
($266 million), the Minnesota
Timberwolves
($264 million), and the big "winner" is the Milwaukee
Bucks
($258 million).
If you remember, the NBA purchased the Hornets for a little more than $300 million according to reports. So they overpaid, at least according to Forbes.
One interesting thing of note: The average NBA team is now worth $369 million, one percent more than last year. But don't get too pumped about that. Several of the league's 30 teams haven't fully come back from the recession as values are still 2.6 percent below the average of $379 million two years ago. So the league's value is coming back, just not totally.