Denver Nuggets forward Carmelo Anthony offers an update on his potential landing spots. Posted by Ben Golliver.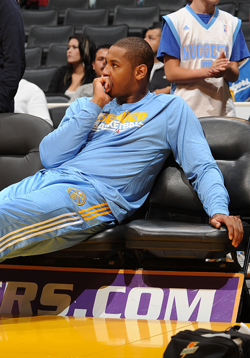 Carmelo Anthony wants to be in New York City, but it's not that simple. After New Jersey
Nets
owner Mikhail Prokhorov
pulled his offer
for Anthony off the table recently, the Denver Nuggets were left to assess the options for their All-Star forward: trade him to the
Knicks
with an extension, trade him to a team on a rental-only basis, or ride it out for the rest of the season and pray that he somehow decides to stick around.
Lost in that decision-making process, just a bit, was that Anthony was left to re-assess his options after New Jersey pulled out too. In a weird way, the Nets actually helped Anthony's chances of landing in New York more quickly, as their ridiculously high bid necessarily raised New York's offer for Anthony, hopefully to a level that would meet Denver's standards for an agreeable trade. Without New Jersey, the Knicks are free to offer pennies on the dollar and/or wait until the summer, which serves to keep Anthony in place in a stressful, difficult environment where he's getting booed regularly.
The solution? Create a new market.
The Denver Post reports
that Anthony agreed that there are now four teams in contention for his services.
I Asked: Are the options strictly New Jersey, New York, Chicago, Denver?
Melo said, "Yeah. But I really can't say it's just those, because I don't really know (what could happen)."
Yahoo! Sports reported
the current state of some of those options.
One of Anthony's agents, William Wesley, is still working the Bulls, sources said, and New York president Donnie Walsh wisely continues to show restraint in talks with Denver.
And as one NBA executive close to the Denver and New Jersey front offices insisted on Tuesday: "I've seen better acting in soap operas than [Mikhail] Prokhorov's performance. The Nets will be back in this thing, but they'll be back in on their terms – not Denver's."
Chicago has never felt like a truly plausible location for Anthony. The Bulls simply have too much to lose, aren't desperate enough and have a solid franchise player in place with a coach whose philosophy is helping to maximize his effectiveness. They're a piece away, sure, but inefficient scoring and big rebounding numbers from the three position aren't exactly the greatest need areas for a team with a ball-dominating point guard and a solid frontline.
Similarly, Chicago, while a huge market with an excellent NBA history, isn't exactly "back east." It's, therefore, a compromise from Anthony's perspective, just as New Jersey would have been. It's a different kind of compromise -- choosing winning over location rather than location over winning -- but it's a compromise nonetheless.
Denver's inclusion on the list simply feels like posturing to get the Knicks to kick up their offer. The fans have turned on him, it's apparently not the right market or city, and the Nuggets would need an overhaul to become a championship contender even if he stays. The only way the Knicks lose here is if somehow, someway, Anthony decides, against all odds, to re-sign in Denver. Otherwise, the most likely scenario is that Anthony is a Knick this summer, costing them nothing but cap space. It reads like an idle threat.
So while Anthony says his list is at least four teams long and could be longer, it stills feels like we're in the same place: New York and New Jersey. Whether the Nets rebuy back into the trade talks and whether the Knicks will up their offer simply to get a quick resolution to the situation seem like the next big questions to be answered.