F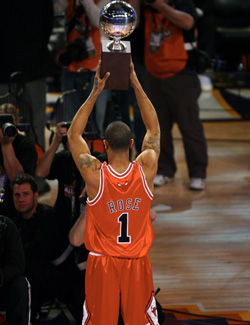 ans to vote on Skills Contest participants. Derek Fisher one of the candidates. We're not sure why.
Posted by Matt Moore
Did you know that this year, you,
yes, you
get to choose the participants of the most random, boring competition in the All-Star Saturday Night festivities?
Taco-Bell is giving fans a vote
on which players they want to see in the Skills Competition.
Chris Paul
is the "spokesman" and therefore automatically in, but the rest will be chosen by vote. The list of candidates includes:
Let's take a look at the candidates, and what we think their odds are.
Derrick Rose (-150):
He's got youth, speed, experience as a former winner, and oh, yeah,
he did this
. Rose is a massive favorite in our opinion, considering he's arguably the best point guard in the league, and the best point athlete of this bunch. He's got the competitive streak to want to win, and the skills involved are specifically suited to his game. Hence the previous pwnage. Being a huge star this league in a major market, he'll have no problems securing selection.
Chris Paul (-140):
Nearly the favorite Rose is. Paul's a more accurate passer, more precise with this movements, nearly as fast, and the best overall point guard in this competition. The only reason he's behind Paul at all is injury questions and Paul being in the competition for the fourth time.
Tony Parker (+150):
Parker's a sexy dark horse pick here. Solid in all areas of competition, healthier than he's been in years, a former Finals MVP, and he's a Spur. Toppling more flashy competition is what they do. His odds of getting voted in aren't as strong, considering the flash and shine of the other candidates, but he might make it off international recognition and veteran respect.
Russell Westbrook (+250):
Westbrook isn't the pure passer a lot of these players are but his handle and speed could be enough to put on a show. When in the zone he's as precise as any player in the league, and he's got a killer instinct rarely found in this league. He could also go for the dunk approach Derrick Rose did when he won the event, only Westbrook can leap from the free throw line to cut down on time. Even playing in OKC, likely to be selected based off of star power and name recognition alongside
Kevin Durant
.
Tyreke Evans (+450):
The dribbling and passing could give him issues, and that's before the three-point shot. Reke's chances aren't great here as he excels based on athleticism. He's simply not the pure skill competitor that some of the other players are. Playing in Sacramento who's having a terrible year and having been forgotten about in a slump following a historic rookie season, Reke's chances at election aren't great. Small market, disappointing season, and bad team. Not a great combo for election, but he's still more likely to make it than some.
Stephen Curry (+200):
Curry's a nice, sleek moneymaker to take here. He's an underdog based on name recognition and not being a top level point guard, but in terms of skill, he's got it to win this thing. A terrific passer with excellent control, fast and light to get through the cones, and range for miles, Curry could wind up shocking everyone with this thing, as long as he can make it in. With five of the eight expected to make it, he's got good odds. This is smart money.
John Wall (+500):
Wall has been injury-prone this season, has been turnover prone, is a rookie on the big stage for the first time, and isn't a great shooter. BIG GIGANTIC RED FLAGS. Wall could get in based off of popularity, market, and name recognition. But his odds of stepping up and beating the rest of the competition are low.
Baron Davis (+600):
Injury prone? Check. Older? Yup. Inconsistent? Uh-huh. Not a great point? Surely. Biggest star on his team? Third, if we're being generous. Davis is very unlikely to make the vote, and should he somehow get in through the Clipper faithful, it's not likely he'll walk away with the trophy with so many faster guards he's up against.
Derek Fisher (+7,858):
No. Not at all. Not in any situation. Not a great passer. Aged like a German cheese. Not awesome on the dribble, either. I mean, there's no way this guy gets voted in, right? That would be like voting in
Andrew Bynum
to the All-Star game when he missed 3/4 of the season so far...oh. Never underestimate the power of the
Lakers
to get in to these things, but Fisher will not win, unless there's some sort of horrific banana peel accident.