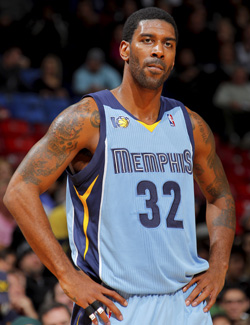 Report states Memphis guard O.J. Mayo to be suspended for 10 games.
Posted by Matt Moore
Update 5:07 p.m. EST:
From a league press release:
The NBA announced today that O.J. Mayo of the Memphis Grizzlies has been suspended without pay for 10 games for violating the terms of the NBA/NBPA Anti-Drug Program. His violation of the program involved a positive test for dehydroepiandrosterone (DHEA).
DHEA is famous as the substance
Rashard Lewis
was supsended for in 2009. It's not considered to have substantial effects on improvement, and does exist in several substances, but is clearly banned by the NBA, and as such, Mayo has no such excuse for not checking whatever it was he took. It should be noted DHEA is also a naturally occurring chemical produced by the adrenal gland, the brain, and the gonads. Still, after last year's suspension of Lewis, each player should have been aware to be on the look out for its existence in any supplement they were taking. The Grizzlies passed along the following statement from Mayo:
"I'm extremely disappointed that I'm going to miss the next 10 games, particularly as our team is making a push for the playoffs. I had no idea that the over-the-counter supplement that I took was a substance banned by the NBA. It was an honest mistake, but I take full responsibility for my actions. I apologize to my fans, teammates and the Grizzlies organization for regrettably not doing the necessary research about what supplements I can put in my body."
The Grizzlies state that his next game will be against Philadelphia just before the All-Star break. There's got to be a sigh of relief from the Memphis front office since that's also conveniently before the trade deadline. O.J. Mayo isn't having as bad a season as
Gilbert Arenas
had last year, but he's still having a terrible year, on account of his own poor decisions.
This is now the second violation over DHEA within a year and a half for the league. This isn't exactly rampant, but it's a repeated issue and after the baseball disaster, the public is still touchy on the matter. Either the league is going to have to adjust its stance on the chemical or provide the players with a higher awareness of its prevalence in over-the-counter supplements.
Original Report:
The
Commercial Appeal
is reporting that O.J. Mayo
will be suspended for 10-games
for an as-yet unspecified offense. Mayo famously clashed with
Tony Allen
on a team flight over a game of Bourre, leading to him getting decked by Allen. Mayo has struggled this season, with Coach Lionel Hollins speaking publicly about his inability to play point guard despite time spent at the position in Summer League, then being benched to make up for the horrendous scoring gap on the Grizzlies' second unit. Mayo has seemed at times unhappy with his direction on the team, particularly following
Rudy Gay
's max deal and the subsequent extension of
Mike Conley
for $40 million.
We'll update with more details as they become available.