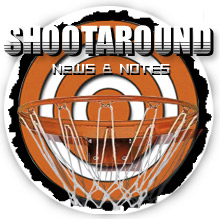 Grizz searching for White Chocolate, Suns looking to keep Nash in the Valley, and Wade joshing about Phil. All this and more in today's Shootaround.
Posted by Matt Moore
The
Grizzlies
are in a rush to try and sign
Jason Williams, because they really think he can help the team win. Because they're the Grizzlies.
Robert Sarver doesn't see the Suns
making another trade before the deadline
, and definitely doesn't see them trading
Steve Nash
. Which is a bummer because you'd love to see Nash on a contender rather than feeding
Vince Carter
in a first round exit at best.
Deron Williams
will have an MRI on his wrist Friday
, after hearing it "pop" Wednesday. The word you're looking for is "Yikes."
Dwyane Wade
jokes that Phil Jackson just wants to coach the
Heat
and that's why he's talking up retirement
.
Were the Cavs
close to trading
Anderson Varejao
to the
Thunder
before his knee injury?
Well, you can't really blame the Cavs for looking at all options
since they're on pace to make history in terms of a downturn
year to year.
Charles Barkley says that the
Knicks
can never win
with Mike D'Antoni's system, which is a popular sentiment. Anything that doesn't prioritize defense and rebounding is going to get shredded by traditional pundits. It would take an overload of talent for the Knicks to get to the promised land with that system, but considering how much matchups rule the NBA playoffs, it's probably a stretch to say they'll never win. It would take a rare set of circumstances, though.
Julian Wright
has to keep shooting, apparently
. File under "signs that your team is trouble if you're talking about this."
Tiago Splitter
in a cowboy hat
. Yee-haw.
Could Larry Ellison
be targeting
the
Kings
next? If so, you can kiss Sacramento goodbye.