Posted by Royce Young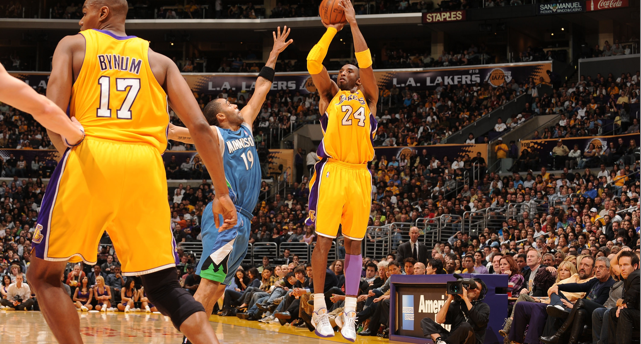 Want to start a debate? Say something about
Kobe Bryant
not being clutch. That's what TrueHoop's Henry Abbott did today and everyone went wild with it.
Honestly, you could probably start your own news channel centered entirely around Kobe debates. Fox News, CNN and MSNBC can argue about politics all they want. The real debate is centered around No. 24.
I know what you're saying, "Tell me more Royce. Why again is Kobe Bryant not clutch? I've seen him make so many big shots."
Well, here's Henry's point:
ESPN Stats and Information's Alok Pattani dug through 15 years of NBA data (see table below) -- Bryant's entire career, regular season and playoffs -- and found that Bryant has attempted 115 shots in the final 24 seconds of a game in which the Lakers were tied or trailed by two or fewer points. He connected on 36, and missed 79 times.

One shot for all the cookies. And the NBA is nearly unanimous that this is the guy to take it, even though he has more than twice as many misses as makes?

[...]

Bryant shoots more than most, passes less, and racks up misses at an all-time rate. There is no measure, other than YouTube highlights and folklore, by which he's the best scorer in crunch time.

It's hard to argue with the numbers. Because you see, numbers and stats and facts are sort of hard to disprove. I agree with people that say, "But, but, he's Kobe and he makes so many!" because I've seen him hit big shots. It's hard to forget those. Thing is though, he's missed a lot. A whole lot.
My issue is, what the heck even
is
clutch? What makes a guy clutch? Just because he dropped a few game-winners? In my mind what defines "clutch" is a player that can perform his job at a high rate despite incredible stress. That might mean Bill in your office is super clutch because he got that memo finished before five on Friday afternoon so you all got to go home early.
Everyone wants to define clutch as the guy making the shot. But what about
Dwight Howard
? He pulls down some big-time defensive rebounds in crunch time. What about
Chris Paul
? He's set up
David West
for some big-time shots in crunch time? What about
Steve Nash
? He's iced some big-time games at the free throw line in crunch time. Aren't all those plays clutch, game-winning plays? Or do we only define it as "buzzer-beating game-winners?" Most do and since Kobe has a lot of those on his resume, he's Mr. Clutch, right? And that's why you want him taking that shot every time, right?
However, any basketball coach and they are telling you what they want is the correct basketball play in those moments. On top of that, you'd prefer your best player taking the biggest shots because there's a reason he's your best player. That's just not always possible.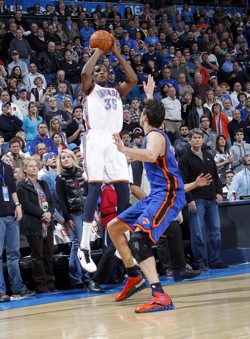 I remember a few years ago how everyone was yelling about
LeBron James
passing up game-winning attempt by instead hitting
Anthony Parker
or
Daniel Gibson
for a wide openlook. Yes, you want LeBron taking that shot because he's your best player, but LeBron was making the right play. He found an open shooter who had a better look than him. That's what you want, right?
People forget, all the players on the floor are in the NBA. They are all capable of scoring (unless Adam Morrison happens to be on the floor, but that's a whole other point). Michael Jordan is famous for his big shots, but he also hit Steve Kerr for an open 3 and John Paxson for a big 3. Why? Because they were the correct plays.
At the same time, getting that clean look in crunch time isn't easy. Referees let more go, defenders play a little tigher and players' hearts start pumping a little faster and that follow-through gets a little tougher. So what you want first and foremost is a good player to get a good look. I would guess that happens about one percent of the time. What you're left with the other 99 percent of the time is relying on your players to make a great player.
That's what separates these classes of "clutch" scorers. Take
Kevin Durant
's game-winner against the
Knicks
for example.
That play was horrible and the shot was bad.
But that's why you want players like Kobe,
Dwyane Wade
, Durant, LeBron,
Carmelo Anthony
,
Dirk Nowitzki
-- they can make those horrible shots. They have that ability to knock it down when everything goes wrong. It's why you have the ball in their hands over
Carlos Arroyo
or
Luke Walton
.
At the same time, it's also a reason their clutch numbers aren't that wonderful. Because they are the ones taking them. You know why Tiger Woods is considered so clutch? Because he's had a lot of opportunities. (Now you've got a chicken or the egg thing. Is the reason he had the chances because he's clutch or is he clutch because he has the chances. My take: It doesn't matter. Clutch or not, maybe he's just good at what he does.)
So again, in Durant's case, because of a bad play and bad execution, he was left taking a fadeaway 3-pointer to win the game. If he clanks it, his clutch numbers take a hit. Since he drilled it, everyone is saying how wonderfully big-time he was. And when you're the designated Big Shot Taker, you're going to be stuck with a lot of those. And you're going to miss a lot of them.
Consider this: Most of the time, you get 24 seconds on your possession. That means you have the typical, normal amount of time to run your set and get your shot. What it also means is that you have time to go to a secondary option if the first is shut down. But in crunch-time situations, sometimes there's only 12 seconds on the clock when you inbound the ball. Sometimes two. So you've got to hoist the shot no matter how good a look you end up with. That's why while you can't argue with the numbers, in a lot of cases, there's a bigger story to them.
That's why I think when you start going inside these type of things, it's really hard to pin down the truth. That's why really, it makes me wonder what the heck "clutch" really is and why we're so fascinated by it. Can't Kobe just be a great basketball player?
Kobe Bryant makes some, he misses a lot. Does that make him not clutch? By what the numbers say, most definitely. But then again, who really is?