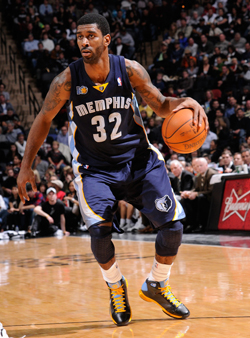 Posted by Royce Young
Everyone has an excuse when it comes to testing positive for something. And most of the time, it's "But I didn't know!"
And that's exactly what
O.J. Mayo
is claiming with his positive test for dehydroepiandrosterone (DHEA) that got him a 10-game suspension. Mayo though, is taking it a step further. He says he thinks
it was an "energy drink" that got him in hot water.
Mayo said he didn't know the drink "had any bad substances in it" and that it wasn't as if he "ordered some supplement off the Internet." Well then O.J., glad to have that cleared up.
Why though, is Mayo even trying to explain it to us? Most American sports fans are so conditioned to athletes' excuses that they just roll off our backs. It very well may have been an energy drink that got Mayo in trouble, but here's the thing: We don't care. This is basketball. It's not like we're keeping Mayo out of the Hall of Fame over it. He took an illegal supplement, got caught and now he has to sit out. End of story right there.
I'm sure Mayo is embarrassed and probably is desperate to clear up any thoughts that he's a cheater or something. But again, it's better to just say, "I'll be more careful in the future" and move on. We'll forget, I promise you. Heck, I had already forgotten about it by this morning until I saw the story about Mayo saying it was an energy drink. And now I'm sitting here writing about it.
I just watched
Rashard Lewis
play in Oklahoma City last night. Not once did I think, "Hey, he took DHEA! CHEATER CHEATER CHEATER!" It's just not something we really care about or really need an explanation of. Obviously he's going to be asked about it and instead of prolonging the story just say you don't know. Playing dumb almost always works. Except when I get pulled over. Then it NEVER works.
What energy drinks have DHEA in it? Most of the common ones like Red Bull, 5-Hour Energy, Amp, Rock Star, Monster and Full Throttle don't contain DHEA. So I don't really know what Mayo had. I don't know that calling him "O.J. Loco" from now on sounds like a lot of fun though.
Mayo's suspension started Friday night at Philadelphia and he will be eligible to return Feb. 15, also against the 76ers in Memphis.