Posted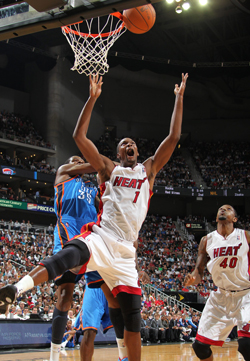 by Ben Golliver
The NBA superstar clique is generally a tight-knit, insular group and Oklahoma City
Thunder
forward
Kevin Durant
is usually a soft-spoken, polite man. Those realities changed a bit today, as Durant publicly called out Miami
Heat
forward
Chris Bosh
following a nationally-televised game between the two teams on Sunday.
Royce Young of CBSSports.com reports that Durant was upset with Bosh over a skirmish that took place in the first half.
"I was talking to my teammate and [Bosh] decided he wanted to put his two cents into it. I am quiet guy, laid back guy, but I'm not going to let nobody talk trash to me. He's on a good team now so he thinks he can talk a little bit. There are a lot of fake tough guys in this league and he's one of them."
"I'm no punk. I wasn't even talking to him first off. He decided to butt in and I'm not going to just let that slide. Especially in our house. Like I said, he's not one of those guys I look at and say he has a rap for talking back to guys or getting into it. He's a nice guy. I'm not going to let that type of person say something to me like that."
The skirmish was sparked, according to the Associated Press , after a Bosh hard foul on Thunder guard James Harden.
Bosh and Durant received a double technical foul in the first quarter after Bosh hacked Harden to prevent a fast-break basket.
Here's video of the exchange that precipitated the double technical fouls on Bosh and Durant.
Durant's words mark another development in his career arc, as, up to this point, he's been content with proving himself on the court and avoiding any major exchanges of words off the court.
Here, though, Durant clearly felt that protocol had been violated. To go at Bosh in such a personal way -- poking fun at his decision to team up with
LeBron James
and
Dwyane Wade
, to call into question Bosh's toughness -- shows an edge I can't recall seeing out of Durant. I kind of like it.
While many superstars couldn't get away with this type of negative commentary without catching a backlash, Durant will almost assuredly skate clean here because Bosh is reviled and mocked by so many fans for the exact reasons Durant mentions. Bosh missed a bunch of time recently with a high ankle sprain and
made a huge fuss
about how the injury occurred and he posed in
an absolutely ridiculous Maxim shoot
, for example. Who is this guy to pretend to play enforcer?
The only problem with Durant's comments, of course, is that the Heat defeated the Thunder, 108-103. Knowing Durant and his legendary competitivess, the loss will likely stick in his craw far longer than anything Bosh did on the court.
Note: This post has been updated from a previous version to clarify quotes attributed to Durant.