It was one of the biggest regular season games of the year, so here's a full plate of reaction to Sunday's game between the Boston Celtics and Los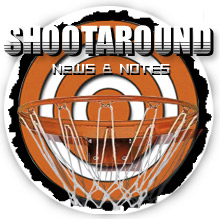 Angeles Lakers. The Celtics won, 109-96, at the Staples Center in Los Angeles. Posted by Ben Golliver.
Boston's View
Boston Globe: "Rondo is the NBA's best at making the pinpoint pass at the precise moment, but he relies too much on that skill. In the second half yesterday, Rondo made matters simpler for himself and his teammates. Very rarely does Rondo play an entire half, but yesterday he played all 24 minutes and the Celtics shot a mind-boggling 69.4 percent from the floor. And of the 22 baskets converted by Celtics other than Rondo, 15 were assisted by Rondo, including six of the team's seven 3-pointers. That means he is moving the ball, delivering passes to sweet spots. That means the Celtics are an offensive machine and Rondo is the commander. "I told Rondo in front of the team it was one of his best games of the year,'' Rivers said. "In the fact that I thought he called an absolutely perfect game. He's our pitcher. I thought he just called a sensational game, coming out of timeouts, making sure guys were in their spots.''
CelticsBlog: "His numbers don't jump off the page and it wasn't his best game statistically, but maybe that is what made it even better. We've come to expect this from Big Baby. This kind of solid, all around game has become the norm, not the exception. Sure, there are times when Doc strains his last vocal cord because of something Baby does, but those are coming less and less often. In fact, the following thought occurred to me that really made me grin: Big Baby might be the James Posey type piece of the puzzle we've been missing since 2008."
CelticsHub: "Because the Celtics offense quietly rolled over the Lakers today. Paul Pierce, who you may have heard has scored more points per game against the Lakers than any other team in his career, hit stepbacks from everywhere. He and a few other guys combined for 9-17 from 3. Rajon Rondo picked up 15 assists in the second half, part of a team total of 34. You know all this. So why isn't anyone talking about the crappy Laker defense?"
WEEI.com: "Paul Pierce destroyed Ron Artest: The captain destroyed his antagonist from last year's finals, scoring 32 points on just 18 shots and sending Artest to the bench in the fourth quarter. There was nothing Artest could do to contain Pierce, who had both his long-range and in-between game working. The Celtics were overwhelming in the second half, but Pierce kept them in position throughout the game in what might have been his best performance of the season."
ESPNBoston.com: Paul Pierce: "The thing is, when you win a game here now, it's not for the championship. It's a regular-season game. When we play against the Lakers, it really gets our juices going, because they are our rivals. It's a big game just knowing that we can come into this building and get a win."
Los Angeles's View
Los Angeles Times: "We're talking humiliation … Celtics fans chanting "Beat L.A.!" … Celtics fan Matt Damon and friends yukking it up courtside between the Lakers' bench and superfan Norm Pattiz."
Orange County Register: "Kobe Bryant gave his team an 'F' for its defense in Sunday's 109-96 loss to the Boston Celtics, a grade teammate Derek Fisher didn't disagree with. ... Ron Artest, usually the Lakers' defensive plug, shrugged off Bryant's failing grade, saying, 'I got F's in elementary school and I still went to college. I also got A's in elementary school and it didn't help me.'"
Silver Screen And Roll: "Against the Celtics at Staples this afternoon, the Lakers forced a load of Boston turnovers, went to the free-throw line early and often, shot well on threes and got a masterly performance from Kobe Bryant. It should've been enough. But it wasn't. It wasn't close to being enough."
Land O' Lakers: "After the 109-96 loss to the Celtics, Phil Jackson was asked if Ron Artest, who scored just three points on one-for-10 shooting while struggling to check Paul Pierce, "got lost" on the way to Staples Center. "No, he was on time," Phil replied. "(But) he got lost on the court."
USA Today: The Lakers shot 44.4%, made four of nine three-pointers (three by Bryant) and had 10 assists. Ten assists? That quantified the lack of ball movement that led to Bryant as the only Laker to score in a nearly five-minute span while four Celtics were scoring. Boston expanded its lead from 91-87 to 107-91. "It's always balance that makes us better," Lakers guard Derek Fisher said. "We're not going to accomplish our goals by relying on Kobe to score 30 or 40 points every game."