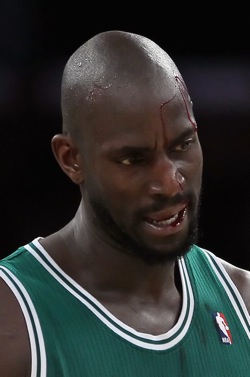 Posted by Royce Young
Just a couple days from possibly
disrupting
Channing Frye
's ability to make children and a few months removed from alledgedly calling
Charlie Villanueva
a "cancer patient,"
Kevin Garnett
did something new.
Nothing surprising for Garnett, but something new. After yesterday's
Lakers
/Celtics game, both Yahoo's Marc Spears and ESPN's J.A. Adande tweeted that when asked for his autograph, Garnett told a Lakers ball boy "you've got a better chance of catching Bin Laden."
If you're desperately trying to take offense to the comment itself, don't. There's nothing wrong with it. It was clever, really.
But this is just another example of what a jerk Garnett is. I know you're thinking, "Well, it's the Lakers and the
Celtics
hate the Lakers." No, it's every team.
Andrew Bogut
tweeted
about Garnett's comment saying,
"Little better than what he told one of our ball boys." And having a couple friends that are ball boys in Oklahoma City, I have heard similar stories about Garnett telling off autograph seekers in a not nice way.
I guess it says something about Garnett not caring about image in any way, shape or form. Obviously, he doesn't care what we think about him. I suppose that's admirable in some weird way. It also says he's a mean person to anyone that's not a teammate, family member or friend.
The tweets were deleted from both writers' accounts, but the reason isn't what you might it is.
Both told Deadspin
that the overwhelming number of retweets and responses was so big that it made their phones unusable. So they deleted the tweet since the news was already out there.