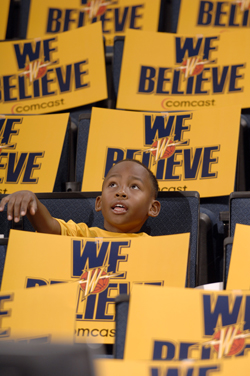 Posted by Royce Young
New
Warriors
owner Joe Lacob hasn't been shy about trying to improve his new team. He even stretched it so far to
offend one of his best players talking about it.
But that's the point. The Warriors are shopping and shopping hard. They want
Carmelo Anthony
, but
Carmelo Anthony doesn't want them back.
So they're looking at new options. What they really need is a good, reliable big man to play with
David Lee
, but that's looking difficult to track down.
Via the Bay Area News Group,
the Warriors are planning on being aggressive heading to the deadline and that
76ers
wing
Andre Iguodala
"has been on the Warriors' radar for a while, according to team sources."
Of course Iguodala is said to be off limits
with the improved play of the Sixers though. The report also says that
Danny Granger
is a player "the Warriors wouldn't mind getting their hands on."
The
Pacers
have reportedly been open to potentially moving Granger, but the word on that is that Indiana's looking for substantial return -- a starting power forwars and starting shooting guard -- and I'm thinking the Warriors don't want to move
Monta Ellis
and David Lee.
The Warriors are armed with two large expiring contracts --
Dan Gadzuric
's worth $7.2 million and
Vladimir Radmanovic
's worth $6.8 million -- so they have some cards to play.
So what are the options right now then if those prices are too high for Golden State? Antwan Jamison is a stretch power forward/wing and the Cavs are certainly open to moving him for young assets.
Tayshaun Prince
has been on the block for a good while now. Anthony Randol-- nah, nevermind.
Rashard Lewis
has been brought up a couple times and the
Wizards
might be looking to deal.
Other than that, is anything else out there much of an upgrade over
Dorell Wright
who has had a really nice season? Probably not. But the Warriors are looking for a serious star to add to the roster. Problem is, who isn't? And the price is always high for that type of player.