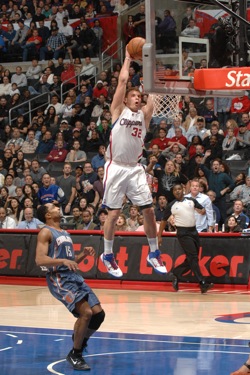 Posted by Royce Young
Would you be surprised if I told you
Blake Griffin
did some very re-watchable things in the month of January? That's what I thought. Here's a look back at his five best plays from January:
5. Below the rim, but above the rest
I love Griffin's non-dunk highlights the best because they show off how skilled he really is. And this layup against the
Bobcats
is another one of those where your jaw drops when as you see a 6-10, 250-pound power forward glide through the lane like he's
Kobe Bryant
. One thing we've learned about Griffin though: He likes to spin. A lot.
4. Just throw this one from the stands next time
Randy Foye
to Griffin from 55 feet. It's getting more and more ridiculous. The dunk itself was kind of ho-hum, but the fact this thing covered nearly the entire 94 feet of the floor is insane. The timing it takes to hook up on that is what's to really be appreciated.
3. He missed this one
And thank goodness he did. Because otherwise I think we'd have to just pack up basketball and end it all right there. That oop would've just been too ridiculous. Really though, I almost think the fact that he missed it makes the highlight that much better. Because it leaves our imagination open to if he had made it. Just how awesome would it have been? It's fun to think about.
2. Now you're just going for degree of difficulty
Eric Bledsoe
is one of the fanciest passers in the league and one of the fastest point guards out there too. So how shocking is it that it took until mid-January for him to hook up with Griffin on a lob? But the wait was well worth it. A beautiful no-look dish and Griffin finished this one in style.
1. 47
Griffin dropped 47 on the Indiana
Pacers
and did it with only a single dunk. More than anything, this game showed off just how incredible his skillset really is. The jab-step jumpshots. The driving layups. The post-ups. The hook shots. The entire arsenal is on display here in one of the season's top performances.