Who deserves the reserve forward spot for the West? Our NBA crew debates LaMarcus Aldridge, Kevin Love, and Blake Griffin for a spot.
Posted by Matt Moore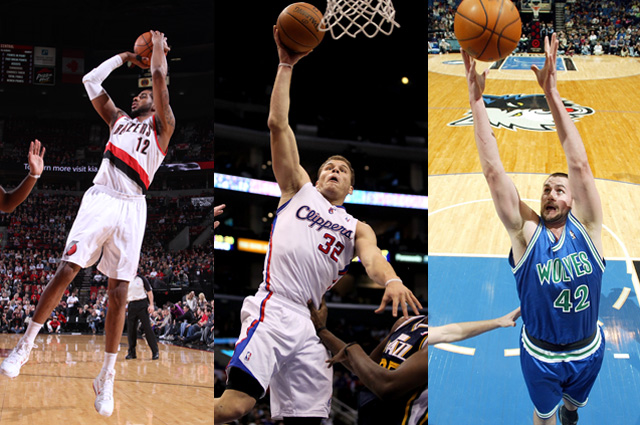 All-Star reserves will be announced on Thursday, and par for the course, the coaches have some tough decisions. We'll be debating the merits of each choice the coaches will have to make. These debates don't necessarily reflect the actual opinions of the writers. Think of it as opposition research, only if we opposed everyone. Our first debate? LaMarcus Aldridge vs. Blake Griffin vs. Kevin Love.
LaMarcus Aldridge: The professional's choice
by Ben Golliver
Portland
Trail Blazers
coach Nate McMillan has spearheaded the All-Star campaign for his power forward LaMarcus Aldridge, and that's no accident. Aldridge's play this year has been a coach's dream and, as coaches happen to vote on these things, who better than his coach to lay out the credentials? In the face of another disastrous injury-plagued season, Aldridge has been a rock. He's No. 7 in the minute in minute's played and No. 1 overall for big men. Despite playing on one of the league's slowest-paced teams, playing next to one of the league's premier rebounders, and shifting from "B" option to "A" option on offense, Aldridge has posted 21 points per game and nine rebounds per game averages, career-high marks in both categories.
In addition to his consistency and production, Aldridge has done what his All-Star competitors haven't been able to do: keep Portland above .500. The Blazers, despite losing two of their three franchise building blocks along with multiple other players to season-ending knee surgeries, are 25-21 and firmly in the Western Conference playoff picture. Coaches love winning and they love winning players. Aldridge has improved as a passer and offense facilitator, and he's also focused more of his attention on banging in the paint, working the boards and finishing at the rim, evidenced by his high dunk numbers. This turn of play has been a long-awaited revelation in the Rose City, and coaches love development and hard work.
They also love winning. When Aldridge needed tests done on a sore hip recently, Portland fans were forced to confront a Blazers unit without Aldridge, and the mental image wasn't pretty. The poor-shooting, inconsistent group that would be left if Aldridge missed time would be on par with the dregs of the league, like the Cleveland
Cavaliers
or, you know, the Minnesota
Timberwolves
with Kevin Love. Numbers without Ws are just numbers, and hopefully the coaches get this one right.
Blake Griffin: Putting the "star" in "exploding star of dunk violence that could destroy the universe"
by Royce Young
Blake Griffin doesn't have the big rebounding numbers like Kevin Love. His team isn't a winner like LaMarcus Aldridge's.
And yet, I'm about to tell you why Griffin is the no-brainer choice.
It all comes back to his 47-point explosion against the
Pacers
. Griffin, who has set the league on fire with his high-flying dunks, his ridiculous putbacks and wild alley-oops, had just one dunk in his best game of the season. One. This is the guy that leads the league in dunks and scores more than 25 percent of his points on crams. Except in his very best game, he only stuffed it once.
The reason? Because he's maybe the most uniquely skilled power forward in the league. He runs the floor like a small forward, jumps like shooting guard and handles and passes like a point. Blake Griffin, is seriously one of the most physically gifted players in the league.
And not to say he doesn't have big-time numbers. He's fourth in the league in rebounding (12.8 per game), averages 22.6 points a game and even dishes out 3.5 assists a night. All while capturing our imaginations every night while we wait for the next super highlight. The All-Star Game is looking for supreme talent, big numbers and a superstar entity that won't let us take our eyes off him. If Griffin isn't the guy that fits all of that and more, then we've seriously got to re-evaluate what we want.
Kevin Love: Simply exceptional
by Matt Moore
Kevin Love is the best rebounder in the league. That's pretty much it. If you have a guy who's the best in the NBA at something as valuable and necessary as rebounding to the game of basketball, that person deserves to be in the All-Star game. He leads the league in offensive, defensive, and total rebounds per game and per 40 minutes. He's second behind
Marcus Camby
in percentage of available rebounds snagged while playing nine fewer minutes. He's the primary concern from an opposing rebounder's perspective, and yet he's been dominant. This in a league that features quite a few great rebounders, most notably
Dwight Howard
who is a monster among boys most of the time, physically.
But that's just the rebounding. It would be one thing were he Dennis Rodman whose only trick in the bag offensively was rebounding. But Love is averaging 21 points per game, on 47% shooting, and hitting 45% from three. Is there a more well-rounded offensive weapon outside the truly elite forwards in this league? Sure, the team is woeful and Love gets a fair number of rebounds off his own miss and by snagging his teammates' boards. But he's still fighting for each and every one while carrying a huge load of the Wolves' offense, and outside of Beasley, is the only real threat on that team.
To punish Love for the fact that his teammates are well, chosen by David Kahn is to miss the point of the All-Star game: to represent the best players in the league. Kevin Love is unquestionably one of those. He's got the huge games (30 rebounds, are you serious?) to his credit, the consistency, the offensive ability, the name recognition, and the superb elitism at his position. To exempt Love from the All-Star game is to become too far removed from the very word: star. Just because he's anchored by his franchise and he doesn't dominate with a fadeaway jumper does not mean that he's not worthy of the honor. Kevin Love should be an All-Star.