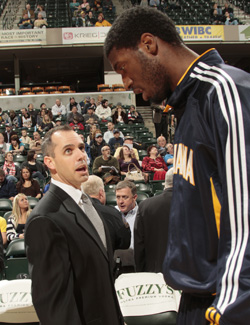 Pacers win first game under Frank Vogel, show signs of legitimate life against terrible Raps team.
Posted by Matt Moore
Sometimes, a change can do wonders. In their first game after Jim O'Brien was fired, the Pacers looked wholly different than they have for the past two months. Much of that is attributable to playing the
Raptors
, who are truly terrible. But there were a series of positive signs that under Frank Vogel, things might improve for the Pacers.
First and foremost was
Roy Hibbert
. Hibbert looked like an All-Star candidate early this season, then tailed off to the point that he as consulting a
sports psychologist
. Hibbert's regression had been a focal point of the scrutiny on O'Brien. For a night, at least, progress seemed to have been made. Hibbert went off for 24 points, 11 rebounds, 2 steals, and 2 blocks against the Raptors' puny interior defense. It wasn't just a good night against a bad team, though. Hibbert
seemed to respond
to Vogel's encouragement. The result was more and more focus from Hibbert, who looked to have new life. And he wasn't the only one.
Tyler Hansbrough
apparently
unleashed a "rant"
about O'Brien after the game, following his 14-point, 6-rebound performance in just 15 minutes. Rookie
Paul George
had 16 points, when his season average is only 7. More importantly, the team won. Even with
Danny Granger
having a tough night, and the opposition so bad (the Raptors have lost 12 straight), there was enough to feel good about this win for Pacers fans, just as a monster ice storm settled into the area, keeping attendance to just over 10,000 officially and far less unofficially. The effort was there, a spark was there, and sometimes that's more important than precision, system, or cohesion, all of which are areas the Pacers still need help with.
Getting started on the right foot is important in a situation like that. Indiana's just two games out of the seventh seed in the East, and has the talent to get there. Maybe a move towards a younger coach is just what they needed. It's just one game and things could fall apart just as quickly, but at least for a night, the Pacers looked to have new life under the new coach.