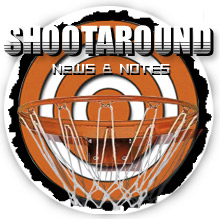 Posted by Royce Young
Serge Ibaka has seen only a handful of minutes the past two games and Scott Brooks attributed focus to being one of the reasons. But he's not in trouble Brooks says. "He's not in the doghouse. It's just, do you want him to guard LeBron James? He can't guard LeBron." Ibaka said: "Everybody in the league has a bad game sometimes. Kevin Durant is the best scorer in the world. He has a couple of bad games, too. But the next day, he's working hard for the next game. That's what I try to do, too. So we'll see."
Al Iannazzone of The Record: "The Nets almost had everything they wanted Monday night. Carmelo Anthony was in their building in front of a good-size and loud crowd, and they played inspired basketball. But Anthony left Prudential Center with his team afterward and flew back to Denver. If the Nets really got everything they wanted, Anthony would have driven back to his place in New Jersey. But because so many players were involved in the now dormant trade talks, they probably were happy to see Anthony leave after the Nets' 115-99 victory in front of 14,039 fans. Yet Anthony said something that could help restart the talks when he was asked what the Nets needed to get his signature on a three-year, $65 million extension."
Marvin Williams says he's got no issues with Shawne Williams. "It's all good," Marvin Williams told The Atlanta Journal-Constitution . "I have no hard feelings towards Shawne. What happened, happened. I am sure when we go to New York it will be interesting. But I had no problems with him before the game and I have no problems with him today. Like I said, some things happened throughout the game and I just finally reacted."
Mike Wells of The Indianapolis Star: "I wouldn't have been shocked if I walked into the locker room on Monday and saw Tyler Hansbrough wearing a muscle t-shirt that had 'I'm Free' written across the front of it. To say Hansbrough won't miss Jim O'Brien would be an understatement. Hansbrough, like some members in the organization, didn't care for O'Brien constantly tinkering with his rotation."