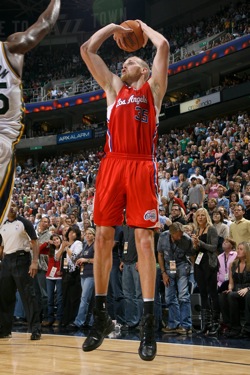 Posted by Royce Young
The Los Angeles Clippers are in transition right now. They're moving away from the big dollar veterans and focusing more on low cost youngsters.
Chris Kaman, who was an All-Star last season, has been out with a bad left ankle for most of the season. He hasn't played since Dec. 5 and there's no timetable for his return. And really, I'm not sure the Clippers are rushing him by any means.
Coach Vinny Del Negro said Monday that if you want to ask about Kaman's availability, just call.
"It depends on what is out there, if there is someone we feel makes us a better team," Del Negro told the Los Angeles Daily News. "We're not in a position not to take a look at everything. It's nothing against Chris. He has tremendous skills. I love him and we need him. But if there is something that would help improve the L.A. Clippers, we would look at anything."
You hear that NBA? Anything. They'll look at anything.
Of course what makes Kaman that much more expendable is the rise of DeAndre Jordan. The athletic seven-footer has become a true presence in the middle, complementing Blake Griffin's game perfectly. Kaman, who is 28, is an offensive center that is looking for 12-15 shot attempts a game. Jordan is fine taking four, with all of them being dunks.
Problem for the Clippers is that Kaman's value isn't near as high as it was two months ago. He's injured so a team looking to add him for help down the stretch isn't sure about what he's going to give. And on top of that, before going down, Kaman wasn't playing all that well. On the season, he's averaging 10.5 points and 7.1 rebounds per game in just 10 games.
What does make Kaman harder to move is his contract. He has two years left on it but at $24 million. He is an All-Star level big man though so a contending team might be interested in bringing him in for a playoff push. Again, the injuries though limits his value to a degree though.
The Clippers would certainly be doing themseves a favor in moving Kaman and fully embracing the youth movement. There's some actual, legitimate excitement and momentum around the franchise right now and it's because of the young talent. Jordan and Griffin are a big part of that. Not to say Kaman doesn't have big time ability, but for the Clippers, it's just better to let the young guys have their minutes. The season's already likely a wash, so just dedicate it to letting your horses get better.
Plenty of teams would be interested in Kaman I'm sure. And like Del Negro said, just pick up the phone.