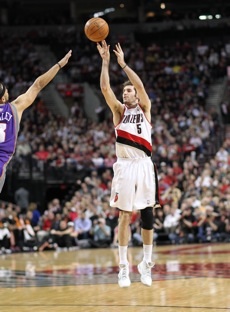 Posted by Royce Young
Remember over the summer when
Rudy Fernandez
and his agent basically begged
Trail Blazers
general manager Richo Cho for a release or trade? I do, because I wrote about it like 15 times.
Obviously, Fernandez wasn't traded. Or released. He's still in Portland and because of injuries to the entire city, is seeing a good amount of playing time. Now, Fernandez is sing a different tune. He's happy now and might even want to stay in Portland long-term.
Fernandez told SPORT.es,
via
HoopsHype
that's feeling good about the Blazers again.
"I'm feeling real good here in Portland and I don't want to think about any trade. If everything continues like this maybe I would want to be here for a lot of years. I've feel that I'm blessed and now I'm more mature. The way the summer went... that made me open my eyes and realize that I'm playing in the best league in the world and I want to cherish the moment, enjoy the NBA. And I now that the NBA is a roller coaster, but I feel it's the best year after coming here."
That's a far cry from the summer where Fernandez's agent took it so far that the NBA had to fine him for publicly demanding a trade. And then Rudy spoke up and so he was fined again. Rudy had been unhappy with his role behind Brandon Roy and felt like he wasn't getting enough minutes. His minutes have actually decreased this season (from 23.2 a game to 21.8) but he's handling more, shooting more and is taking a bigger role within the Blazer offense.
"Now I enjoy playing, coach is giving me freedom," Fernandez added. "It's true that this situation is in part because of the injuries but the truth is I'm comfortable on the court and that makes me happy on and off the court. Now I have more friends in Portland, the family and people come to see me more often and I'm very focused on my job."
The Knicks appeared to be a prime candidate for Fernandez and made a number of calls to try and swing a trade. But the Blazers wanted a first-round pick for Rudy, something the Knicks didn't have.
Now just because Fernandez is happy now and is talking long-term in Portland doesn't mean the Blazers have a mutual feeling. Cho spoke about shaking up the roster recently and Fernandez is certainly a piece that could be involved in that. A lot of this depends on Brandon Roy's situation but more so about the long-term vision Cho has for the Blazers in Portland.