Los Angeles Lakers center Andrew Bynum is out with knee soreness on Tuesday night. Posted by Ben Golliver.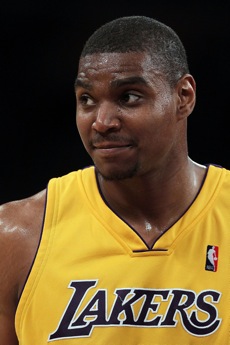 I've been consistent in advocating patience and calm in assessing the Los Angeles Lakers this season, as the mid-season ups and downs are inevitable and the Lakers remain the most talented and tested team in the Western Conference. But if you're in the market for a good reason to freak out about L.A.'s title hopes, Andrew Bynum's health is as good as it gets.
Bynum, who didn't return from offseason surgery on his right knee until Dec. 14, is out for Tuesday night's game against the Houston
Rockets
after an MRI revealed "a bone bruise on his left knee,"
according to Lakers.com
. This after Bynum missed practice due to knee soreness on Monday. Going forward, Bynum is officially listed as day-to-day.
Bynum is averaging 11.4 points, 7.3 rebounds and 1.8 blocks in 24.6 minutes per game so far this season, and he managed 11 points, six rebounds and a block in 28 minutes against the Boston
Celtics
on Sunday. He is a talented, big body that causes problems for the other Western Conference contenders and he would be a critical piece in a potential Finals match-up with either the Celtics, Orlando
Magic
or Miami
Heat
.
While it's not clear whether Bynum's left knee soreness is a compensation injury stemming from his surgery and rehab on his right knee, or if it's entirely unrelated, I'm sanctioning a raise of the Lakers panic level from 0 to 1 based on this news. The Lakers are talented enough to beat Boston with Bynum, but not without him. As championship-or-bust is the ridiculously high standard that the Lakers operate under as back-to-back champions, any knee issue related to Bynum, who has dealt with them in the past, is enough cause for Lakers fans to get a little nervous. That the MRI came back clean otherwise, however, prevents this from being anything except an issue worth monitoring closely in the short-term.
Following Tuesday's game against the Rockets, the Lakers next play the
Spurs
in a nationally-televised game at Staples Center on Thursday night.