Allen Iverson will miss at least six weeks with a calf injury. Posted by Ben Golliver.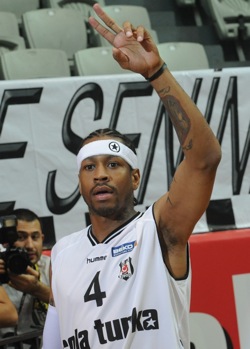 A few weeks back,
rumors began circulating
that Allen Iverson -- beset by a mysterious injury -- was ready to retire from basketball, which had taken him to the Turkish professional team Beskitas. His
manager quickly shot down those rumors
and Iverson returned to the United States for treatment, his Turkish experiment complete for the time being.
Ken Berger of CBSSports.com reports
that Iverson's issue is fairly serious.
Allen Iverson tweeted Monday that he hopes to return to his Turkish team in time for the playoffs at the end of March. But according to a statement from renowned surgeon Dr. James Andrews, that could be an optimistic assessment.
Andrews said Tuesday that Iverson requires "prolonged rest" totaling at least 6-8 weeks, along with an injection to treat a calcium deposit in his calf. The mass is in a "very precarious spot" because it is pressuring the main nerve and artery that go down the leg, Andrews said.
The best-case scenario: Iverson is able to return to Besiktas this year and contribute during the playoffs. His motivation for a quick return is obvious: the team obviously wants him back as soon as possible, expectations demand that he deliver on his big-dollar deal, and his professional pride will surely be powering him through this rehabilitation.
The smarter scenario: Iverson takes the "prolonged rest" advice literally and holds off on a comeback until next fall. With seven or eight months to get right, Iverson, who is already 35 years old, would be doing his body a huge favor. His contract with Besiktas runs through next season and Iverson hasn't personally given any indication he won't fulfill that contract and potentially seek another deal after that.
Given these circumstances, the safe play is the slow play for The Answer. But keeping one of the game's all-time great competitors off the court, as many NBA trainers can surely attest, is easier said than done.