Pop star Justin Bieber will play in the NBA All-Star celebrity game. Posted by Ben Golliver.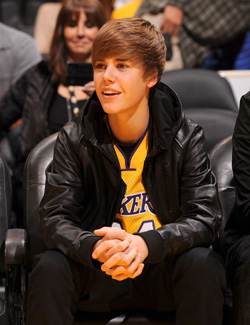 Back in October, we noted
that drawers-dropping pop singer Justin Bieber got the chance to hold Phil Jackson's NBA championship ring. Little did we know that this would be just the beginning of an influential year of hoops for Bieber.
As it turns out, the adolescent crooner will be headlining the 2011 NBA All-Star Celebrity game,
according to the Associated Press
.
The newest name to play Showtime: Justin Bieber. The 16-year-old pop singer will join Magic Johnson, WNBA hoopsters and stars from film, music and television Feb. 18 in the NBA All-Star Celebrity Game at Staples Center in Los Angeles.
Former NBA stars Scottie Pippen and Bill Walton, actors Ty Burrell and Jason Alexander and rapper Common will be among those also taking part.
NBA.com has posted the
full list of participants
.
ESPN Analyst Magic Johnson (NBA legend and Hall of Famer)
Grammy-nominated artist Justin Bieber (pop artist)
Scottie Pippen (NBA legend and Hall of Famer)
Bill Walton (NBA legend and Hall of Famer)
AC Green (NBA legend)
B.J. Armstrong (NBA legend)
Chris Mullin (ESPN Analyst and NBA legend)
Jalen Rose (ESPN Analyst and NBA legend)
Jimmy Kimmel ("Jimmy Kimmel Live!")
Ty Burrell ("Modern Family")
Rob Kardashian ("Keeping Up with the Kardashians")
Zach Levi ("Chuck")
Jason Alexander ("Curb Your Enthusiasm")
Common (Just Wright)
Bill Simmons (ESPN.com columnist)
The two GMs charged with selecting the teams will be late-night host Jimmy Kimmel and writer Bill Simmons, who already
joked on Twitter
, "Who gets Bieber?" Presumably, a draft-day trade involving cash and conditional future picks will be required to obtain the top overall pick and the right to obtain Bieber's basketball skillz.
Following typical blog format, this is the portion of the post where I am supposed to make a basketball-related pun based off of one of Bieber's song titles. Unfortunately, I don't know a single one of his songs and I don't want our IT guys to start wondering why I'm googling his name.
So we'll just wrap this up here.