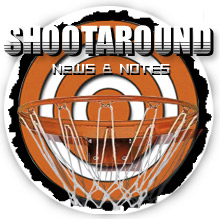 Posted by Royce Young
Josh Robbins of the Orlando Sentinel: "Bass' injury could intensify General Manager Otis Smith's search for an additional big man to fill the void created by the trade of Marcin Gortat in mid-December. It should make for an interesting February for the Magic, who have lost six of their last 12 games. The first half of the month will be tougher now. The Heat have Chris Bosh at power forward. The Celtics have perhaps the deepest frontcourt in the league, especially now that center Kendrick Perkins has returned from a knee injury. Next Tuesday's game against the Los Angeles Clippers will feature rookie power forward Blake Griffin, an emerging star and a regular contributor to SportsCenter highlight reels."
Howard Beck of The New York Times: "Fans and pundits will surely debate the extent and the quality of the Knicks' progress this season. They have a winning record (but just barely). They are on a pace to make the playoffs (as a lower seed). They might win a first-round series (though it seems unlikely). They have an undisputed star in Amar'e Stoudemire (but he is not LeBron James). Yet the progress is both tangible and indisputable, and a credit to Donnie Walsh, the team president, who over two years dismantled a dysfunctional, overpaid lineup and replaced it with a cohesive, respectable, reasonably priced team. As Walsh awaits word about his future, it is instructive to look back to the roster he was handed on April 1, 2008, which may look even worse in retrospect than it did at the time. Six of the 15 players Walsh inherited are out of the league -- not counting Eddy Curry, who might as well be. Three others are on N.B.A. rosters but barely playing. That leaves only five players of any significance."
Dave Krieger of The Denver Post: "What if Carmelo Anthony is right? What if the Nuggets are pursuing a new business model that mimics what owner E. Stanley Kroenke is doing across the hall with his hockey team, which has a player payroll half that of the basketball team and a similar competitive position? What if the Nuggets' contract proposal to Melo would essentially give him the role of Todd Helton for the Rockies in the aughts, a star in his prime with his team rebuilding around him? Demonizing players as disloyal is easy for organizations in which fans have a vested interest, as the Broncos demonstrated under Josh McDaniels."