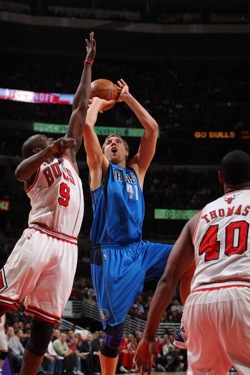 Posted by Royce Young
Dirk Nowitzki
recently talked about his plans with basketball if there is a work stoppage later this year.
He said he might play in Germany.
Besides that probably being impossible because of his current NBA contract, Dirk has now backed off that idea a bit, calling it "speculation."
Via the Dallas Morning News:
"If it's a long lockout, we all have to check over all our options," Nowitzki said Tuesday. "You don't want to lose a whole year. But that's a long, long way away.

We don't know what's going to happen with the collective-bargaining and even then, there are a lot of other things that go into it. This was mainly just a bunch of speculation."
Actually, it's possibly just a few months away. In Dirk's head it's a long, long way away because this season has a lot left in it and Dirk isn't thinking about anything else. But once the Finals end and the draft wraps up, things will start to get dicey. That's when all of this stuff we've been hearing and reading about with start to actually get hashed out.
What Dirk said is something a lot of players are thinking about. They don't want to lose a whole year. What they are saying is they don't want to lose a whole year of basketball but what they
mean
is they don't want to lose a whole year of paychecks.
Again, this talk of players going overseas isn't likely to happen. To me, it's somewhat of a ploy to tell the owners that they don't need the NBA and that they can get money elsewhere. It's the greatest one because we all know where their bread is buttered.