The agent for Los Angeles Lakers forward Ron Artest says his client doesn't want to be traded. Posted by Ben Golliver.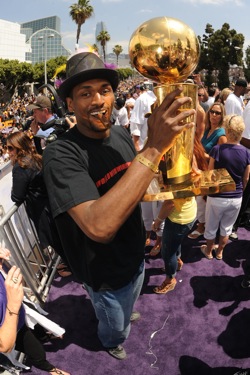 Earlier today, we noted
an ESPN.com report that asserted that Los Angeles Lakers forward Ron Artest was potentially interested in being traded off the defending champions because he was supposedly sick of being the scapegoat and there are questions about his role in the offense.
While neither Artest or his agent, David Bauman, would comment on the original report, Bauman has
offered a denial to the Los Angeles Times
.
"Ron is not looking for a trade," Bauman said. "The frustration is there among everyone on the team. But Ron is a Laker, and he just wants to win. Ron is frustrated with the losing, as everybody is."
The ESPN report stressed that it was likely Artest could change his mind given his fickle personality and the fact that his relationship with Lakers Coach Phil Jackson had improved ever since a Yahoo! sports report in December on a confrontation during practice between Artest and Jackson in which Artest voice his frustrations with Jackson publicly criticizing him. Said Bauman: "Ron and Phil have definitely seen each other eye to eye better."
Lakers.com also reported
later Wednesday that Artest offered a denial of his own: "I definitely don't want to be traded."
Many will be quick to write off any denial offered in this situation, as both player and agent are extremely limited by NBA rules in how they can request or demand a trade in public without incurring a fine.
If you're looking to read between the lines here, I suggest starting with the quote about Artest's relationship with Jackson, because that's the key to this puzzle. It would take a significant personality or philosophical difference for a player in Artest's position -- making a serious run at defending a title -- to hit the eject button.
That Bauman was willing to specifically address Artest's relationship with Jackson and put a positive, progressing face on it certainly wasn't a mandatory part of the playbook. Agents have all sorts of ways of squeezing around that type of question, offering non-answers, no-comments or vagaries, but here Bauman handled it pretty straightforwardly.
As Royce Young
noted earlier today
, an Artest trade is a fairly remote possibility even if everyone with the Lakers is on board with it, they'd have to find a taker for his remaining salary and quirky personality. And as long as Artest and Jackson are able to play nice? There's zero motivation to explore getting a deal done.