Utah Jazz guard Deron Williams is listed as day-to-day after undergoing an MRI which confirmed that he has a strained wrist tendon. Posted by Ben Golliver.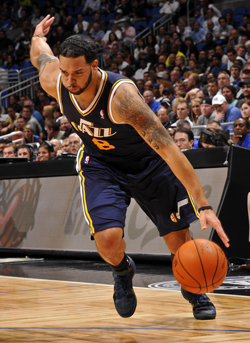 Utah Jazz guard Deron Williams has been bothered by a strained wrist, which has kept him out of action since Jan. 26. Williams is set to miss his fourth straight game on Wednesday night, and lingering pain caused the All-Star to undergo an MRI to assess the situation,
the Salt Lake Tribune reports
. The results: Williams does have a strained tendon, and apparently nothing else.
Hand specialist Dr. Steve Huish's evaluation today of Jazz guard Deron Williams' right wrist and a magnetic imaging exam taken of the wrist confirmed that the All-Star has a strained tendon.
Williams, who is not in uniform for a home game tonight against Houston, remains day-to-day. Treatment of his injury will also remain the same.
The Jazz have been in a freefall since since just after the New Year, as the Jazz are 5-9 in their last fourteen games and 2-7 in their last nine games.
It's a tough time for Williams to be inactive, as the Jazz play six games in the next 10 days. His next opportunity to take the court will come on Friday, when the Jazz visit their division rival, the Denver
Nuggets
. In his absence, Jazz coach Jerry Sloan will turn to reserve guards
Earl Watson
and
Ronnie Price
.
Williams is averaging 21.9 points, 3.7 rebounds and 9.4 assists on the season.