Portland Trail Blazers point guard Andre Miller says he doesn't really care if he's traded prior to the NBA trade deadline. Posted by Ben Golliver.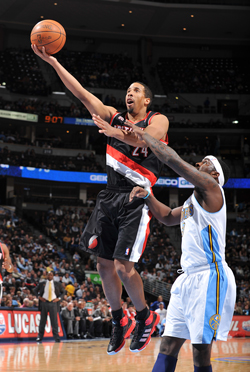 The Portland Trail Blazers had their season self-combust due to injuries, and any hope of entering a championship window -- building around
Brandon Roy
,
Greg Oden
and
LaMarcus Aldridge
-- has disappeared entirely. As such, it's crossroads time for new Blazers GM Rich Cho: to rebuild or to stay the course?
Rebuilding is the likely play, but that would require going young and shedding some of the team's older players with big-dollar deals in the name of flexibility. One of those players could be veteran point guard Andre Miller, who had his name floated in trade rumors last year and earlier this season as well.
NBA Fanhouse reports
that Miller is indifferent to the trade talk.
"I don't really care, really,'' Miller said when asked in a FanHouse interview Wednesday whether his hope now is to remain in Portland rather than be traded. "You know what I'm saying? I would like to stay put, but it's a business and anything can happen.''
When asked if he believes there's a decent chance he'll be moved by the Feb. 24 trade deadline, Miller said, "Yeah. Yeah.''
"There's a chance,'' Miller said. "A lot of guys can get moved. Where? I don't know. At this point, hopefully it's not a team that's rebuilding. I wouldn't want to go back to like a Philly situation.''
Miller is a straight-talking, matter-of-fact speaker, so his blunt honesty shouldn't catch anyone by surprise. While Miller is still productive and a key piece of the Blazers team this season -- averaging 13.1 points, 7.1 assists and 3.7 rebounds -- as the team's only starting-quality point guard, his theoretical usefulness for the Blazers has come and gone.
When Miller was signed in the summer of 2009, it was with the idea that he would help provide veteran leadership to a young team that was looking to take the next step in the playoffs. With Roy and Oden out of the picture indefinitely, the Blazers are now looking to build around Aldridge, wing
Nicolas Batum
and guard
Wesley Matthews
, a much less formidable trio. While Miller was supposed to guide the ship, that ship has sailed off in a totally different direction, replaced by a much less imposing dinghy.
Miller is on the books for $7.3 million this season and a team option $7.8 million for next season, so a team that traded for him could simply let him walk this summer without any future financial obligation. He therefore would have appeal both to contenders looking to increase their depth without compromising their long-term flexibility and to rebuilding teams that are simply looking to dump a longer-term contract.
It also shouldn't be a huge surprise that Miller isn't as emotionally tied to Portland as he might have been in the past. He came to Portland with the goal of advancing out of the first round of the playoffs, to put a stamp on a long, successful NBA career. He hasn't accomplished that goal and he has no real ties to the area. If a contender was interested, who would blame him for reciprocating that interest and chasing playoff success somewhere else?
Miller, with his on-the-ground game and savvy play, has plenty of NBA miles left. But he's nearing the end of his run as a game-changing starter. Whether he is moved prior to the deadline, during draft season or next year as an expiring contract remains an open question. The problem for Portland, of course, is the same one they have dealt with for a decade: Who can they find that is better?