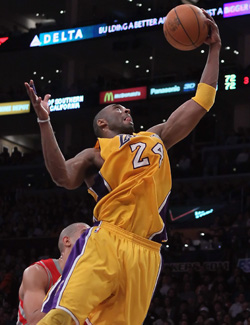 Kobe Bryant says that Lakers critics can "kiss (his) (expletive)."
Posted by Matt Moore
Kobe Bryant is not exactly the guy you want mad at you. As a matter of fact, in the long line of people on this planet I would not want mad at me, it's pretty much Kobe, then Chuck Norris and my mom. But some people may wind up on Bryant's bad list shortly. Asked by reporters about the recent criticism from people like Jerry West and
Magic
Johnson after practice Wednesday, Bryant snapped at reporters, then decided to give his honest opinion for those who have recently complained about the Lakers' performances in big games this season.
Lakers.com captured the interview on tape
. Here's the juicy part at 2:40:
"Q: ... Magic has said you guys needs to toughen up a little more. Is there unfair criticism on this team at this part of the season?

Kobe Bryant: Don't know, don't care. People that criticize can all kiss my (expletive). I don't give a (expletive). I really don't. I keep the train moving. We're going to keep on moving, and in June, they'll say nothing. But now, it's good talk."
So, yeah. Magic Johnson, Lakers legend, can kiss his backside. That's Kobe!
Bryan has a point here. Selling criticism right now is easy in January, but this team has proven time and time again it can screw around in January through March and hoist the title in June. At the same time, people are interested in the NBA in January, the games the Lakers have lost have been big ones, and the team needs to throw its fans a bone and beat a good team at home. It's also just not cool to throw those kinds of words out at guys like Jerry West and Magic Johnson. Then again, Bryant's as good as any Laker in history, so he's got the cred to say such things. The fact remains this criticism won't end until the Lakers start beating "elite" teams at home.
Like, oh, say the
Spurs
, who they meet Thursday night. In the meantime, reporters, I'd shy away from bringing that criticism stuff to No. 24.