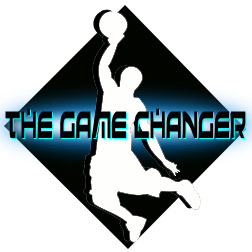 The Chicago Bulls defeated the Los Angeles Clippers, Blake Griffin threw down two amazing dunks, the Denver Nuggets topped the Portland Trail Blazers and plenty more.

Posted by Ben Golliver.
Each game is made up of elements that help formulate the outcome. Monday through Friday, we'll bring you the elements from the previous night's games in our own specialized version of the game recaps. It's not everything that happened, but it's an insight into what led to the results you'll see in the box scores. This is
the Game Changer.
THE BIG ONE: BULLS TOPPLE CLIPPERS
The Bulls easily handled the Clippers, 106-88, on Wednesday night, and this was of the classic "well-oiled team defeating one-man show" variety that we've seen for decades in the NBA.
As the Clippers' broadcasting crew kept repeating (apparently to remind or reassure themselves): the Bulls are really good. Even without
Joakim Noah
, the Bulls remain an excellently constructed team, with
Derrick Rose
leading a cavalry charge that includes talent both inside and out. Last night, Chicago got big contributions from both, with
Luol Deng
going off for 26 points, six rebounds and five assists, while
Carlos Boozer
and
Taj Gibson
combined for 25 points and 22 rebounds, effectively neutralizing Blake Griffin's explosion for 32 points, 13 rebounds and seven assists.
While Griffin went huge, Rose was clearly the best player on the court, delivering on the MVP hype he's generated recently and controlling the flow and pace of play with relative ease. His jumper (4-of-8 from distance) was dropping, which makes it impossible to guard him, and he finished with 32 points (on just 18 shots) and 11 assists.
The Bulls hit shots, rebounded (41 to 30 overall) and moved the ball (27 assists on 40 baskets). Throw Noah into this mix and Chicago is the second-best team in the Eastern Conference.
GO-GO-GADGET LINES OF THE NIGHT:
Joe Johnson: 37 points, two rebounds, eight assists on 15-of-21 shooting in 39 minutes in an Atlanta Hawks home win over the Toronto Raptors.
Jrue Holiday: 11 points, 10 rebounds, 11 assists in 36 minutes in a Philadelphia 76ers road win over the New Jersey Nets.
Stephen Jackson: 39 points, five rebounds, four assists, one steal on 14-of-26 shooting in 43 minutes in a Charlotte Bobcats road win over the Detroit Pistons.
Kevin Durant: 43 points, 10 rebounds, five assists, one steal, one block on 14of-19 shooting in 41 minutes in an Oklahoma City Thunder home win over the New Orleans Hornets.
Derrick Rose: 32 points, three rebounds, 11 assists, one steal, one block on 11-of-18 shooting in 38 minutes in a Chicago Bulls road win over the Los Angeles Clippers.
Blake Griffin: 32 points, 13 rebounds, seven assists, one block on 14-of-26 shooting in 41 minutes in a Los Angeles Clippers home loss to the Chicago Bulls.
DON'T MISS:
DENVER DROPS PORTLAND:
Those in the "The Nuggets are really good, why does Melo want to leave?" camp got a signature win last night, as Denver took care of Portland 109-90 at the Pepsi Center. After dealing with various rehabs and injuries, the Nuggets are as healthy as they are going to get right now, and their eight-man core rotation was clicking on all cylinders, even though
Carmelo Anthony
wasn't having an explosive offensive night.
Denver's top 8 all finished with positive +/- and they destroyed Portland on the boards, even though the Blazers are one of the league's better rebounding teams. Portland, of course, is playing without starting center
Marcus Camby
, and the Nuggets were able to capitalize on this fact (unlike the San Antonio
Spurs
, who played the Blazers on Tuesday night) by bullying and pounding Portland's big men in the paint. The results: 42 points in the paint, 51.9 percent shooting, 19 assists on 40 made baskets, excellent scoring balance and a big night (22 points and 10 boards) from the chronically overlooked Nene.
For Nuggets fans, all of this adds an extra element of frustration should Anthony be moved prior to the trade deadline. It's clear now that this veteran group does indeed have at least one final, strong playoff left in the tank, and with teams appearing to falter all around them -- including the
Lakers
and the
Jazz
-- there's got to be a "Why not us?" sentiment developing in the Mile High City.
The question, of course: Does Anthony feel that too, or is his mind somewhere else entirely?
HIGHLIGHT REEL:
Who else but Blake Griffin? He did it again (twice) on Wednesday night in a 106-88 loss the Bulls.
First up is another long distance alley-oop, this time from guard
Randy Foye
. Griffin catches the pass on the move and flies over Bulls forward
Kyle Korver
to throw down a two-handed dunk. The crowd goes absolutely nuts.
Later in the game, Griffin takes Bulls forward
Kurt Thomas
to the rack, deciding to go up and under the rim to get off a shot attempt. The only problem? Bulls forward Taj Gibson drops down to provide weakside defense. Griffin's solution? Dunk over the top of both of them, of course. Stick around until the end of the video for the slow-motion replay. Incredible.
WHIMSY:
Via 30 FPS , here's a funny screen cap from the Staples Center crowd after Griffin's first dunk. ESPN personality and Clippers season ticket holder Bill Simmons can be celebrating the dunk with child-like glee, thrusting his fist into the air like the Clippers just won a playoff game.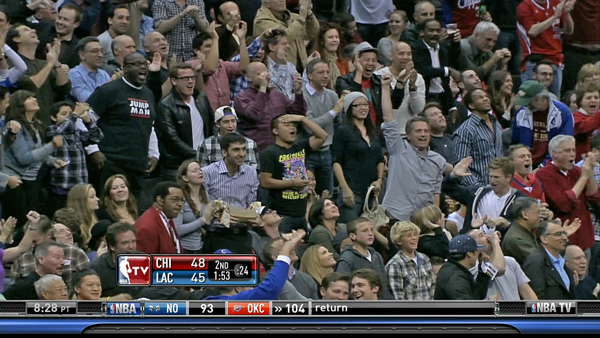 FINAL THOUGHT:
My most-desired playoff series -- aside from Boston sweeping the Miami
Heat
-- is a potential Boston vs. Chicago matchup: student vs. teacher, Derrick Rose vs.
Rajon Rondo
, smart, tough team vs. smart, tough team. If Rose is as good as he appears this year, the
Celtics
would take on the Bad Boy Pistons role in this narrative.
A final, final thought: starting to get itchy for the playoffs. It's that time of year.