The New Orleans Hornets will reportedly sign Sasha Pavlovic to a 10-day contract after Trevor Ariza went down with an ankle injury.

Posted by Ben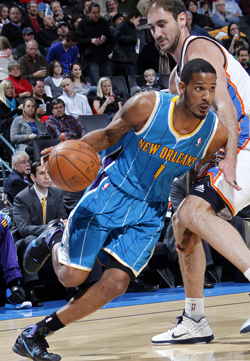 Golliver.
New Orleans Hornets forward Trevor Ariza suffered a sprained right ankle during Wednesday night's game against the Oklahoma City
Thunder
, and
the Times-Picayune reported Wednesday
the injury is fairly serious.
It appears Ariza could be sidelined indefinitely. After the game, he wore a protective boot and walked with crutches.
"It's very disappointing,'' said Ariza, who will be examined by team doctors today. "I never had injury with my ankle before.''
The injury occurred when Ariza went to the basket and came down on the back of Thunder forward Jeff Green's foot.

On Thursday, the Hornets said an MRI showed Ariza has a right medial ankle sprain, making him questionable for Saturday vs. the
Lakers
.
The Times-Picayune reports
Ariza could miss "possibly two weeks" and that the Hornets will sign free agent wing Sasha Pavlovic, who played for the Dallas
Mavericks
earlier this season but was released in January so that the team wouldn't have to guarantee his contract for the rest of the season.
ESPN.com reports
that the Hornets, who have an open roster spot, will sign Pavlovic to a 10-day contract.
Pavlovic averaged 4.1 points and 1.2 rebounds in 16.3 minutes per game in his 10 appearances for the Mavericks. He's in his eighth year in the NBA. Assuming he signs his contract on Friday, as expected, Pavlovic will be available for games against the Lakers, Minnesota
Timberwolves
, New Jersey
Nets
, Orlando
Magic
and Chicago
Bulls
.
Ariza has averaged 11.1 points, 5.5 rebounds and 2.0 assists per game this season for the Hornets. New Orleans is currently 32-19 on the season, good for third place in the extremely competitive Southwest Division.