NBA All-Star reserves announced, All-Star rosters complete. Blake Griffin selected to NBA All-Star game as a rookie. Four Celtics make the team, East represented primarily by Boston and Miami.
Posted by Matt Moore and Royce Young
The NBA All-Star Game reserves were announced live this evening, and we'll break them all down for you.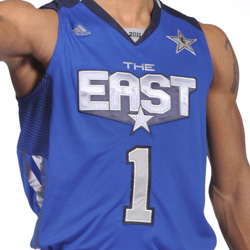 Eastern Conference:
Guard:
Rajon Rondo
,
Ray Allen
,
Joe Johnson
Forward:
Paul Pierce
,
Kevin Garnett
,
Chris Bosh
,
Center:
Al Horford
The Eastern Conference All-Star team is made up of only six teams. The
Bulls
have one, the Celtics four, the
Heat
three, the
Magic
one, the
Knicks
one and the
Hawks
two.
Rondo has had a fantastic first half of the season, putting up near historic assist numbers. He's had a couple 20-assist nights and as the creator and distributor of one of the NBA's most efficient offenses, it's a well-deserved nod. He's had three triple-doubles and 19 double-doubles. In five seasons, this is two All-Star selections for Rondo. At 35, Allen is one of the oldest All-Stars. But he's certainly deserving. He's shooting over 45 percent from 3 and as one of the most deadly late game scorers in the NBA, he's feared in almost every situation. This is Allen's 10th selection.
Nobody came on stronger over the last month than Johnson. In January Johnson averaged 26.0 points per game on 50 percent shooting from the field. He started slow because of an elbow issue but now that he's healthy, he's back to one of the best isolation scorers and knock down shooters in the league. Five straight All-Star Games for Johnson.
Quietly, Garnett is having an MVP caliber season. Because of his leadership and defense, Garnett has positioned his team as the team to beat in the East. He's always a threat for a double-double and this season has re-asserted his dominance on the interior. This makes 14 straight All-Star appearances for Garnett. Pierce makes it four Celtics on the roster and really, it's hard to say he didn't deserve it. Really, it just came down to which Celtic do you scrub? And it's just too hard to say it should've been Pierce. He's scoring at a ridiculously efficient rate this season and this is his ninth selection.
Bosh is appearing in his sixth All-Star Game. He's taken a lot of flak over his role and perceived toughness in Miami, but his importance can't be denied. Without him, the Heat just aren't the same offensive team. It's easy to forget what a good power forward he really is and he's still one of the very best. A second consecutive appearance for Horford. He's had 24 double-doubles and is quietly one of the premier big men in the league. He's top five in field goal percentage and rebounds and is maybe the most important player for the Hawks.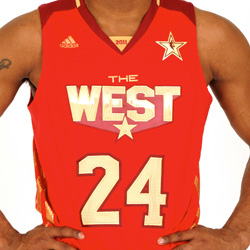 Western Conference:
Guard:
Russell Westbrook
,
Manu Ginobili
,
Deron Williams
Forward:
Tim Duncan
,
Dirk Nowitzki
, Blake Griffin
Center:
Pau Gasol
Blake Griffin certainly makes an impression, doesn't he? Selected over
LaMarcus Aldridge
and
Kevin Love
(we'll get to them in a bit). A rookie selected to the All-Star game itself. Pretty incredible. From there, Deron Williams will likely raise a few eyebrows considering he hasn't had a season up to his standards, but it's not like he's struggled. It's clear that both coaches appreciate the tremendous crop of point guards we have playing in this league currently. Westbrook making it will surely ease the fears of
Thunder
fans, and Duncan and Nowitzki were no-brainers based off both team success and individual legacy, even if
our own Ken Berger felt
Duncan wasn't up to snuff.
Manu is a surprise selection, but as he's been mentioned in some's MVP conversations, perhaps he shouldn't be. Ginobili has managed to absolutely demolish teams down the stretch, and his play has been arguably the biggest reason for the
Spurs
having the best record in basketball.
For the West, the fans got their man (Griffin), the coaches got their legacies (Duncan, Nowitzki), and L.A. is well represented, even without
Lamar Odom
sneaking in. Now we get to start figuring out who Blake Griffin is going to dunk on.
Your complete All-Star Rosters (starters in bold):
Eastern Conference:
Guard
:
Derrick Rose, Dwyane Wade,
Rajon Rondo, Ray Allen, Joe Johnson
Forward:
LeBron James, Amar'e Stoudemire,
Paul Pierce, Kevin Garnett, Chris Bosh
Center:
Dwight Howard,
Al Horford
Western Conference:
Guard:
Chris Paul, Kobe Bryant
, Russell Westbrook, Manu Ginobili, Deron Williams
Forward:
Kevin Durant, Carmelo Anthony
, Tim Duncan, Dirk Nowitzki, Blake Griffin
Center:
Yao Ming
(injured), Pau Gasol