Who were the biggest snubs for the All-Star game, after the reserves were announced ?
Posted by Royce Young and Matt Moore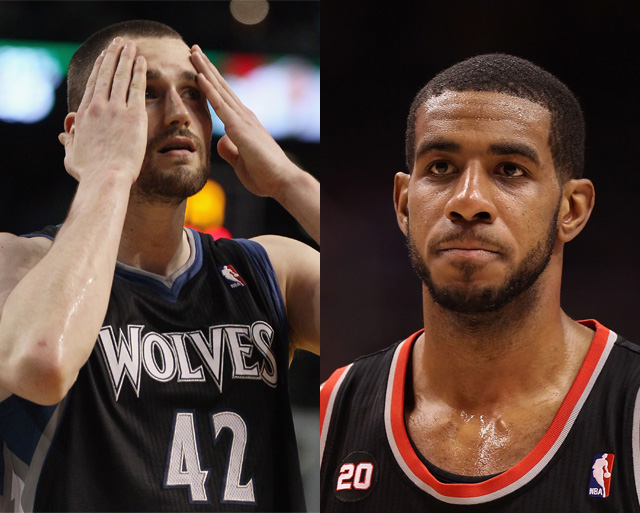 As it is every year, some worthy candidates were left out of
the All-Star game reserves
list. But this year, those left out had more legitimate complaints than usual. Here then are three snubs from the Eastern and Western Conference.
Eastern Conference
Honestly, the Eastern coaches got it all right. It's hard to really say there's a true snub in the East. Going through though, there certainly are a couple players that have a case. Especially since the whole team is made up of the
Celtics
and
Heat
.
Josh Smith
: Probably the biggest snub has to be Josh Smith. Problem is, who do you remove? Smith though is having probably his best season, averaging 16. 2 points and 8.8 rebounds per game. His defense is well documented but what he's shown off his is versatility this season. Because of injuries, Smith has played small forward, power forward and even some center.
As a key cog in the
Hawks
machine, Smith has figured out how to play perfectly next to
Al Horford
and
Joe Johnson
. There's always a lot of talk about other big threes throughout the league, but there's no reason not to include the trio in Atlanta. Smith has cut down on the dumb shots, is playing well inside and in transition, is maybe the most dynamic finisher out there. Plus, having him in the All-Star Game would be a treat. Can you picture a fast break of Smith,
Derrick Rose
and
LeBron James
? I can and it's pretty awesome.
Andrew Bogut:
Seeing that the East only has one real center on the roster, Bogut makes a lot of sense. It's tough to move off Horford, but you certainly can make a case for Bogut replacing
Paul Pierce
or even
Ray Allen
, since the East is stacked with wings.
Bogut has been injured all season as he hasn't totally recovered from elbow surgery, but he's still averaging a double-double and is one of the best defenders in the league. Plus, Bogut deserves a ton of credit for fighting the way he has. Despite suffering a brutal injury last season, Bogut has battled inside and is putting up comparable numbers to last year even though he can't totally use his right arm entirely. That's impressive.
The
Bucks
record hurts (19-28) which is probably the biggest reason Bogut was snubbed. If the Bucks are a contender or even a current playoff team in the East, it's almost impossible to keep him off this roster.
Raymond Felton:
A month ago, Felton had a really good case to be on this team. But the last few weeks, he just hasn't played well. And that sort of things hurts because that's the period where coaches were casting their ballots.
However, it's hard to ignore the impact Felton has had on the New York offense. He's still averaging almost 18 points and nine assists a game, which is up there in point guard ranks. He's shooting the 3-ball really well and runs the pick-and-roll as beautifully as anyone. Having
Amar'e Stoudemire
obviously helps, but still, Felton has executed.
The West is carrying three point guards and the East only has two. So it makes sense to add Felton and take over Pierce or Allen, but it's a tough call to make just because of Felton's position. Fact is though, he's been a huge part in the
Knicks
first half resurgence which scores extra points with me.


Honorable Outrage Mention:
Carlos Boozer,
Luol Deng
, Thaddeus Young
Western Conference
LaMarcus Aldridge:
Aldridge has the most legitimate gripe, yes, even more than
Kevin Love
. Aldridge has had the most team success, and averaged 25 points and 10 rebounds in January . He just dropped 40 on the team with the best record. Aldridge has played masterfully and hasn't had the questions about his defense like Griffin or Love have had.
Aldridge has become the leader of the Blazers and has arguably the best combination of both size and skill (mid-range, post, perimeter) of any Western forward not named Dirk or Pau this season. He doesn't have the flashy dunks of Griffin, but he's got the wins, which I'm pretty sure the Blakeshow would trade for. And with the Blazers, somehow, someway, still in the playoffs, to exempt Aldridge is to cast a doubt as to whether team performance is only relevant if the player is a known name.
Kevin Love:
A shocker that he didn't make it. The NBA's leading rebounder is also averaging 21 points per game to go along with those 15.5 rebounds per game. 15.5. Which is just kind of ridiculous.
The fact that Love's surrounded by a terrible team assembled by questionable management should not have kept him out. There has been some discussion that Love's stat-hounding ways have turned off coaches and scouts, which may have led to his exclusion.
Similarly, the Wolves aren't just bad. They're terrible. But if you look at Love's contributions, you have to wonder how much more terrible they would be were he not there. Love can never be accused of taking a night off, and has the first 30 rebound night since Moses Malone. That's quite a long time. Either way, Love has to wonder what more he could have done to wound up on the All-Star squad.
Z
ach Randolph:
Randolph is the middle of the debate between Aldridge and Love. He averages 20 points and 13 rebounds, which are pretty ridiculous, especially when you factor for pace (23.3% Total Rebound Rate for Love, 21.4% for Randolph). Randolph's team has had more success than Love, though, and recently has surged above .500, closing in on the 8th spot in the West held by Aldridge, thanks mostly to Randolph's performance.
So he has both the rebounding eye-popping numbers of Love and the team success of Aldridge. Throw in the fact that he's a respected veteran who made it last year with similar numbers and it's hard to argue for his exclusion, even with greats like Duncan and phenoms like Griffin in play.
Honorable Outrage Mention:
Lamar Odom
,
Monta Ellis
,
Steve Nash
,
Tony Parker