Posted by Royce Young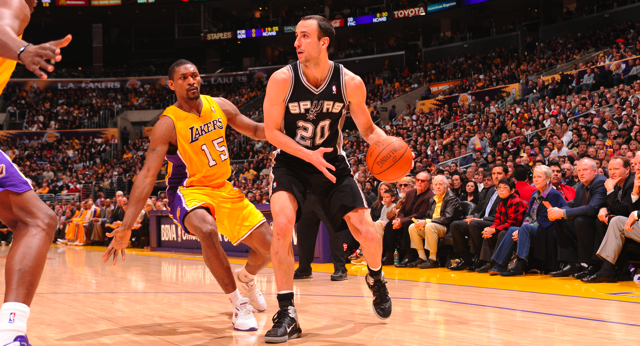 It was obvious how important this game was to the
Lakers
from the tip. They've been answering a lot questions, their general manager is talking about making trades and
Kobe Bryant
is a little extra chippy. And they had the league's best team in town and played like they had something to prove.
Problem is, they had the San Antonio
Spurs
in town and they don't exactly go down easily.
The Lakers thought they had it won three different times. With Los Angeles up 88-87 with 22 seconds left, the Spurs ran a great set but
Manu Ginobili
missed an open 3. Rebound Spurs.
Tony Parker
had the ball at the top of the key, made a move left and rimmed out a tear drop runner. Again, the Lakers didn't secure the rebound and the ball went out, off yellow.
And the third time indeed was a charm for San Antonio.
Tim Duncan
caught the ball, didn't get the hand off to Parker and had to force up a falling jumper over the extended hand of
Pau Gasol
. The shot was long, catching back-iron except for a fourth time, the Lakers didn't get on the glass.
Antonio McDyess
beat
Lamar Odom
and tipped in the game-winner as time expired. 89-88, Spurs.
The game had every feel of a playoff classic with both teams fighting tooth and nail for 48 minutes. Every possession was a complete grind. Both teams shot under 43 percent. The Lakers were playing like the game meant something more. And of course the Spurs brought it.
Tony Parker was terrific, leading all scorers with 21,
Richard Jefferson
had 18 on 7-12 shooting and Duncan and Manu did just enough to get it done. This is the way the Spurs do things. You look at the box score and spend 15 minutes wondering how in the heck they won the game. They understand better than anyone what it means to get a key stop, a key basket or a key rebound. They win. They've mastered it as well as anyone.
On the Laker side, Kobe Bryant didn't shoot the ball well (5-18) but to his credit, didn't force things late in the game when his team needs points every trip. He did a great job creating good shots for Odom and Gasol, drawing the defense and making the correct pass. Kobe finished with 10 assists to go with 16 points and nine rebounds. He didn't play great, but did enough to get his team a win.
Gasol who has taken some criticism lately, played hard and played well. He had 19 points (8-10 shooting) and seven rebounds. He was a little more involved and locked in than he's appeared the past couple weeks. He definitely played with fire, but obviously it wasn't enough to stop Duncan and the Spurs.
In the end, it was about getting one stop to seal it. Except the Lakers gave the Spurs four chances.
It's still only February and Phil Jackson has already said he's not panicking until the playoffs. But you could see it after the officials confirmed McDyess got his tip off in time. The Lakers looked devastated. Pau Gasol hung his head, Kobe quickly exited the floor and the rest of the team just looked deflated.
They put a little extra into this game. They wanted to beat the Spurs and prove how good they still are. Losing by one on a tip isn't reason to hang your head in shame, but the Lakers still feel like they're searching for something. I'm convinced there's no reason to worry for this team (yet), but Thursday's game isn't going to make them feel any better.