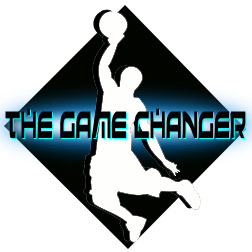 Posted by Royce Young
Each game is made up of elements that help formulate the outcome. Monday through Friday, we'll bring you the elements from the previous night's games in our own specialized version of the game recaps. It's not everything that happened, but it's an insight into what led to the results you'll see in the box scores. This is
the Game Changer.
THE BIG ONE: MIAMI HANGS ON TIGHT
With six minutes left,
Magic
fans started filing out. The
Heat
led 90-70 and appeared to be on cruise control headed toward an easy but big divisional win over the Magic.
Orlando, being a good team, wasn't completely finished.
Jason Richardson
hit a shot.
Ryan Anderson
hit a 3.
Gilbert Arenas
hit a 3. Then Anderson another one. The Magic hit six long-balls in the last six minutes, finally cutting the Miami lead down to three.
And after the Heat failed to get the ball in with nine seconds left, the Magic somehow had an opportunity to tie the game. Anderson got another look from deep by was just long on it.
What's interesting about the set though was how open
J.J. Redick
was coming off a
Dwight Howard
screen. Have a look: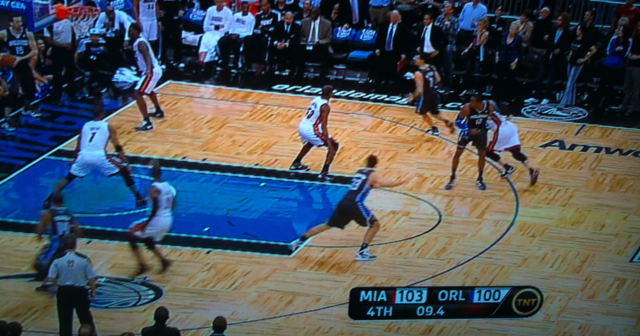 Hedo Turkoglu
instead went out top to Anderson which wasn't a bad play, seeing how Anderson was open. The difference is that the ball had a long way to travel to get to Anderson, meaning the Heat defense had a chance to recover. If the ball goes to Redick, it's catch and shoot. Easy to pick nits now knowing it didn't work, but at the time, everyone saw Redick flash open.
It's easy to look at how the game almost blew up in Miami's face, but in the end, the Heat won a game against a good Magic squad. They did it with incredible defense for 42 minutes, crisp offensive execution and oh yeah,
LeBron James
is still freaking incredible.
He started the game 11-11 which tied a career best and finished the game with an NBA season-high 51 points on 17-25 shooting. Just for fun, he added in 11 rebounds and eight assists. He owned this game. Just completely dominated it in every way he could.
And he did it from the start. LeBron scored 29 in the first half and after
Dwyane Wade
left for a while following a hard fall, LeBron just continued to kill the Magic. It's nights like this where you truly fear the Heat. I mean,
how do you stop that
?
MCDYESS DICES LOS ANGLES AT THE BUZZER
It was obvious how important this game was to the
Lakers
from the tip. They've been answering a lot questions, their general manager is talking about making trades and
Kobe Bryant
is a little extra chippy. And they had the league's best team in town and played like they had something to prove.
Problem is, they had the San Antonio
Spurs
in town and they don't exactly go down easily.
The Lakers thought they had it won three different times. With Los Angeles up 88-87 with 22 seconds left, the Spurs ran a great set but
Manu Ginobili
missed an open 3. Rebound Spurs.
Tony Parker
had the ball at the top of the key, made a move left and rimmed out a tear drop runner. Again, the Lakers didn't secure the rebound and the ball went out, off yellow.
And the third time indeed was a charm for San Antonio.
Tim Duncan
caught the ball, didn't get the hand off to Parker and had to force up a falling jumper over the extended hand of
Pau Gasol
. The shot was long, catching back-iron except for a fourth time, the Lakers didn't get on the glass.
Antonio McDyess
beat
Lamar Odom
and tipped in the game-winner as time expired. 89-88, Spurs.
The game had every feel of a playoff classic with both teams fighting tooth and nail for 48 minutes. Every possession was a complete grind. Both teams shot under 43 percent. The Lakers were playing like the game meant something more. And of course the Spurs brought it.
Read the rest of how the Spurs topped the Lakers at the buzzer here.
GO-GO-GADGET LINES
LeBron James
had an NBA season-high 51 points on 17-25 shooting, grabbed 11 rebounds and had eight assists.
Dwight Howard
had 17 points and 16 rebounds.
Luc Richard Mbah a Moute
had 15 points and 19 rebounds against Golden State.
Ersan Ilyasova
finished with 23 and 13.
Gary Neal'S BUZZER BEATER WAS COOL TOO
Antonio McDyess's big tip at the horn is getting all the love, but how about Gary Neal's buzzer-beater at the half? You know, without it, McDyess's play might not have meant as much. Think about that one.
PARTING THOUGHT
Don't overlook Golden State's 100-94 win over the
Bucks
. Two things this showed: 1) The Bucks truly are a horrible offensive team, only mustering 94 points against the
Warriors
and 2) Golden State is just good enough to stay interesting for the rest of this season.
With
Monta Ellis
,
Stephen Curry
and
David Lee
, the Warriors have the players to be in every game, but obviously aren't totally ready to be a playoff contender. It feels like they aren't really that far off though.