Orlando Magic center Dwight Howard mocked Miami Heat forward LeBron James before Thursday night's game. Posted by Ben Golliver.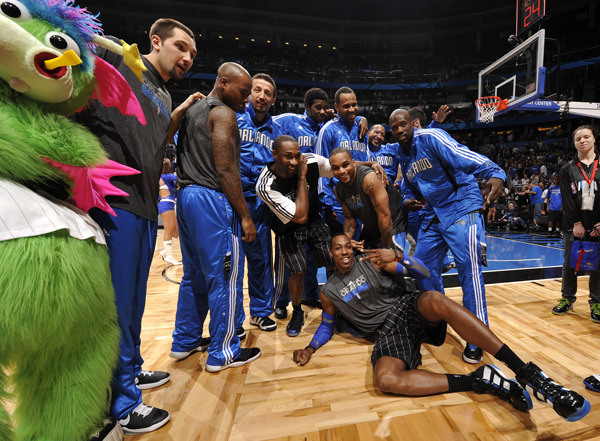 Last night, Miami Heat forward LeBron James
exploded for his best game of the season
and, really, one of the best performances of his career. The 51-11-8 night came after months of trash talk and slights between the Orlando Magic and Miami Heat; It also came minutes after Orlando Magic center Dwight Howard led his team in a group mocking of James.
Prior to the tip, Howard went to the scorer's table and mimicked James' chalk toss -- something Howard also did when the Magic traveled to Cleveland, James' former home, earlier this season -- but what really took the cake was Howard leading a group of his teammates in a team photo, another practice James was known for leading last year in Cleveland. You can get a look at the group photo above and check out video of the chalk talk and photo session below,
via YouTube user kakalama12345678
.
First, this is pretty funny. Second, it's almost always funny when someone mocks LeBron James.
However, it's not particularly classy, though, and I'm surprised that Magic coach Stan Van Gundy allowed this to happen. These actions -- and, more importantly, the spirit behind the actions -- really backfired. The Magic are no better than James: they've never won a ring, they don't dictate NBA etiquette and they were just looking to make a national scene to mock an opponent. Howard, as a well-established superstar in his own right, should be better than that, although the fact that he's done the chalk toss multiple times now makes it clear this was no accidental message.
Unfortunately,
given the game that unfolded
, the message it sent was "we tried to make you look bad and failed" rather than "we're so confident in our play that we can stoke your competitive fires without fear of repercussions." Given the relative hype between the two franchises and the relative size of their markets, there's also a tinge of "little brother jealousy" to the whole thing.
Does this all look differently if the Magic come out and take care of business last night or if James came out cold and looking distracted rather than putting together the best start (11 for 11) of his career? Probably. But, for now, it looks both funny and a bit sad.