Boston Celtics forward Kevin Garnett writes that he will not apologize for his dirty play against the Phoenix Suns. Posted by Ben Golliver.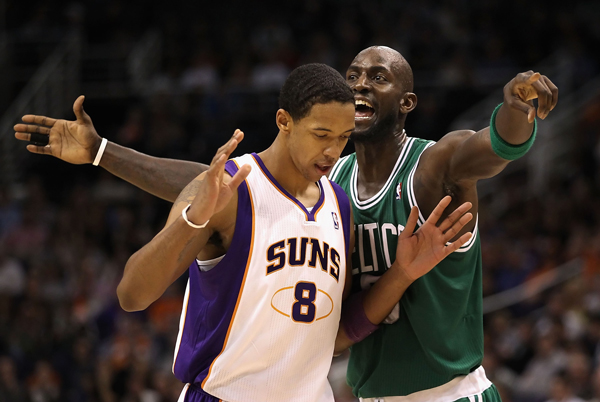 Last week, Boston Celtics forward Kevin Garnett was
ejected from a game
against the Phoenix Suns following an argument that began when Garnett slide under Suns big man
Channing Frye
and contacted him in the genitals during a jump shot attempt. Garnett was
not suspended
for the incident, and the NBA explained the ejection resulted from multiple technical fouls assessed for arguing and yelling after the play, rather than the dirty play itself.
WEEI.com notes
a
recent blog post
written by Garnett, on the website of his Chinese shoe manufacturer. Garnett writes that he "never apologizes" for his action and explained the incident by saying "I play with passion."
We "played a back-to-back in Phoenix. This game was physical as well and super ugly. I never apologize for my actions, as I play with passion. I actually got ejected for (the ref said) 'talking too much.' Can you believe that? It was unfortunate, and I hate to leave my team out there without being around to support them. Doc [Rivers] got ejected and then fined $15,000 for not leaving the court in a timely manner. A TIMELY MANNER. WOW. The game ended, and we got worked over. It could've been the back-to-back and travel, but they played well."
We probably shouldn't expect any more or less of Garnett, who has a well established track record of pushing the envelope on the court in the name of obtaining a competitive advantage and then sticking to his guns after the fact.
Here, given the flagrant violation of NBA etiquette, Garnett is simply thumbing his nose at his critics and daring those who are indifferent to think less of him. A Frank Sinatra-esque "My Way" philosophy is almost always admirable, but not here, where both Garnett's actions and his indifference to his violations of generally regarded conduct norms are regrettable.
Garnett, a surefire Hall of Famer and
an NBA All-Star this year
, should be better than this pettiness and stubbornness.