NBA Hall of Fame center Kareem Abdul-Jabbar reports that he is cancer-free. Posted by Ben Golliver.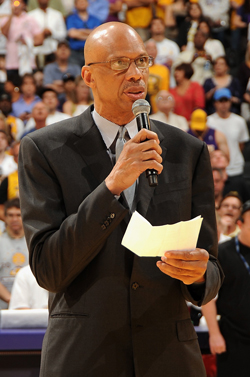 On an ugly night filled with word of
child support papers being served during halftime of a game
and
a record-setting losing streak
comes some excellent news: NBA Hall of Fame center Kareem Abdul-Jabbar says that he is cancer-free.
CBSSports.com's Ken Berger noted
that Abdul-Jabbar made the announcement on
his Twitter account
.
Kareem Abdul-Jabbar, who has been treated for chronic myeloid leukemia for more than a year, tweeted Friday, "I am 100 percent cancer-free!!"
Abdul-Jabbar also wrote that his "last blood test looked great" and that he was "feeling great."
Back in Nov. 2009, Abdul-Jabbar
revealed to ABC News
that he had been diagnosed with a rare bone marrow cancer.
Kareem Abdul-Jabbar said today he had been living with leukemia for nearly a year but no longer considered the disease a death sentence. Abdul-Jabbar, 62, said that he'd been diagnosed in December with Philadelphia chromosome-positive chronic myeloid leukemia, or PH+CML, a rare cancer of the blood and bone marrow.
"I heard the world 'leukemia,' and I thought this was definitely a death sentence," Abdul-Jabbar said.

But, now, his prognosis is good, he said."If I can do this as I'm told to do it, I can manage this," he said.
Abdul-Jabbar, now 63-years-old, played for the Milwaukee
Bucks
and Los Angeles
Lakers
during a career that lasted from 1965 to 1989. He is the
NBA's All-Time leader
in points, minutes played, field goals, field goal attempts, and All-Star selections. He is also a six-time NBA champion and six-time NBA MVP.