Boston Celtics center Jermaine O'Neal underwent arthroscopic knee surgery and is expected to miss 6-8 weeks. Posted by Ben Golliver.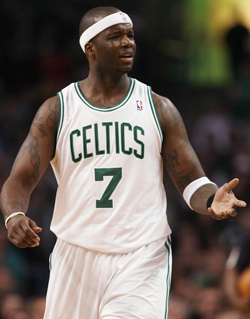 Boston Celtics center Jermaine O'Neal has been dealing with knee pain for most of this season, as he first
missed a stretch of 19 games in November and December
and has now missed another 12 straight games with knee pain, making his last appearance on Jan. 10. O'Neal had been trying to manage a recovery and deal with the pain, however it now looks like that plan was scrapped in favor of surgery.
WEEI.com reports on Friday night
that Celtics president Danny Ainge announced after Boston's loss to the Dallas
Mavericks
that O'Neal underwent arthroscopic surgery on his ailing left knee and is expected to miss 6-8 weeks.
"Surgery went fine and we're hoping that helps alleviates the swelling he was getting with extra activity," Ainge said.
O'Neal, who hasn't played since Jan. 10, was originally thought not to need surgery, but the problematic knee wasn't progressing in a fashion that was satisfactory for the player or team. "It didn't respond like we had hoped," Ainge said. "I think it could be something he could be dealing with next season," he said. "Whenever you have arthritis in your knee and there's bone on bone there's a long-term issue there. This surgery was not something to fix him long-term."
The projected timetable would keep O'Neal out until at least late-March, but should have him back in plenty of time for the playoffs, which begin in late-April.
The news is by no means critical for the Celtics, who recently got starting center
Kendrick Perkins
back from a knee injury of his own
. O'Neal would be helpful as another body to throw out there during the playoffs against teams like the Chicago
Bulls
and Orlando
Magic
, or the Los Angeles
Lakers
should the two teams meet in the Finals, but its not a rotation-killer in the short term. Indeed, his absence over the next two months should be fairly easily managed, as the Celtics are used to playing without him and are currently 37-12 on the season, the best record in the Eastern Conference.
O'Neal has averaged 5.2 points and 3.8 rebounds in 18.1 minutes per game during his 17 appearances so far this season.