Posted by Royce Young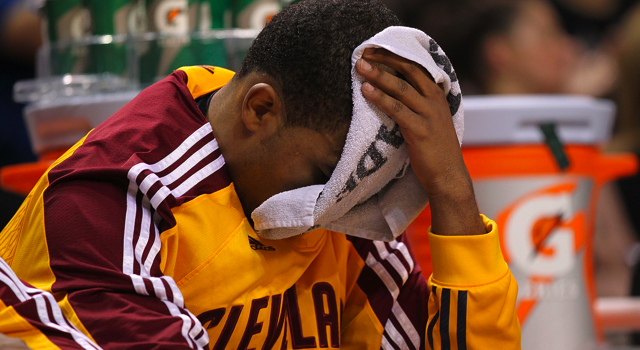 They are 8-42. They've dropped 23 games in row, which ties the all-time NBA record. They've lost 33 of 34, an NBA record.
They are the Cleveland
Cavaliers
and they are
awful.
Saturday night, chances are looking good for the Cavs to
break
the all-time record for consecutive losses against the
Trail Blazers
.
One year ago through 50 games, they were 39-11 and cruising toward 61 wins. My, what a difference having the best player in basketball makes.
But take a good look at this, Denver
Nuggets
. Because this could be your future. Don't let it scare you though, because it could also be the right path to take too.
The Nuggets have been fighting tooth and nail the past few months trying to round together a suitable trade for their star Carmelo Anthony. He isn't signing the extension Denver has on the table so it's obvious -- he's leaving.
There's a fear in the Nugget front office of what will happen next. Subtract
Carmelo Anthony
from the Nuggets and what are they? A slightly more talented and slightly older Cleveland Cavaliers without LeBron, right? And you know Masai Ujiri and Josh Kroenke have been watching closely as the Cavs slide backwards into the NBA record books. They are afraid of next season. They are afraid of facing a season of 20 wins as Carmelo skates off to another team. They are afraid of being terrible.
But really, isn't that the very blueprint for quality rebuilding?
The Nuggets are trying to piece together a trade that brings them some first-round picks (most likely of the non-lottery variety) a talented young player and maybe an above average talent as well. Whatever they get, even if it's the very best deal possible, isn't going to equal Carmelo Anthony's value. The reciprocation will be marginal, at best. They'll get just enough to stay mediocre, probably sliding to the back of the pack of the West. They're looking at maybe struggling to 40 wins, but more than likely 35. Whatever the case, they aren't going to stay any kind of actual contender, as if they were one right now anyway.
Denver has a lot of roster questions coming in the future. What happens with
Chauncey Billups
who is 34 and will be a free agent next summer? What about Nene, who has an early termination option for this summer? Or
J.R. Smith
, who is an unrestricted free agent? The Nuggets have a real opportunity to start fresh after Melo walks, and it starts by wallowing in some serious misery.
You can be sure that Cavs fans are suffering right now. To go from one of the best teams in the league to the wrong side of the record book is surely tough to stomach. If they were burning LeBron jerseys the night of "The Decision," they might feeling like burning their season tickets now.
But what happens after this season? The Cavs will finish with one of the worst records in the game and will likely get a top five pick. They'll have the opportunity to land that next franchise builder. So what they really got was seven years of amazing basketball with LeBron and instead of going through the typical evolution of five years of horribly average seasons where the team is never good enough to do anything but never bad enough to
get
anything. The Cavs have an amazing opportunity, really. They get a chance at the next LeBron. They get a chance at the next franchise builder.
Now of course, that next big thing might not be in this draft. Jared Sullinger looks fantastic and he's a local kid from Ohio State, which is nice. Kyrie Irving looks like a fantastic talent capable of building a team around. Kemba Walker, Perry Jones, Terrence Jones -- there's some talent to be had. The next part is up to Dan Gilbert and general manager Chris Grant to get right (and for the Cavs to get lucky with the No. 1 or No. 2 pick).
Take Oklahoma City for example. When general manager Sam Presti was hired, he committed himself to a long-term vision. He set dynamite to the team, trading cornerstone
Ray Allen
and letting
Rashard Lewis
walk. The then-Sonics had the good fortune of landing the No. 2 pick and even better fortune of getting
Kevin Durant
with that pick and then Jeff Green for Allen. The next year, Presti used the fourth pick on Russell Westbrook. The Sonics/Thunder went 31-51 in 2006-07, 20-62 in 2007-08 and 23-59 in 2008-09. But the vision started to pan out in 2009-10 when the
Thunder
stormed to 50 wins and the eight-seed in the West. Now they're 32-17 and appear to be set up for at least a decade of good basketball.
That's
the blueprint for rebuilding.
So really, didn't LeBron do the Cavs a favor by walking away the way he did? He left them entirely in ruins and as a result, they get the chance to start fresh now, rather than running in place for four years while they slowly learn they didn't get equal talent in a trade. They will have the chance at a fresh start with a new fun and captivating player to build around. All coming just a year after LeBron left them crying in their pillows.
That's where the Nuggets are. They don't want to get LeBron'd, or to a less degree, Bosh'd like Toronto, so they're fighting to keep their heads above water. But maybe the best plan is to just tie a rock to your feet and plunge to the bottom of the ocean for the next year or two or three. Starting over isn't always a bad thing. As the Cavs will tell you, it hurts now --
really
bad in fact -- but as history has shown, most times the best way to get back is by falling hard.
The way the Nuggets are planning to approach this is half measure. They're trying to find the best of both worlds. Instead of going all in, they're trying to find something to preserve current success. It's just not possible though.
But for the good of the franchise, it's probably better to live through hell now with the hope to find heaven later. That's the Cleveland way right now and it might be in Denver's best interest to follow along.