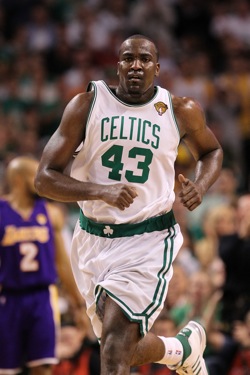 Posted by Royce Young
The summer of 2011 isn't going to have quite the sizzle the summer of 2010 did in terms of free agency. The biggest name out there is
Carmelo Anthony
but by all appearances, he'll have signed an extension with someone before he gets there.
But there are a number of good building blocks to be had. One being
Kendrick Perkins
currently of the Boston
Celtics
. With him being such a key part to their stellar interior defense, you'd think it would be a no-brainer for Boston to extend him. Except Perkins wants to do things his own way. He wants to see what's available in free agency, via the Boston Herald.
According to two league sources, Perkins has already turned down a Celtics offer that is bound by the CBA's current restrictions — a contract extension worth slightly less than $30 million over four years, which reflects the currently mandated contract limits of a 20-percent increase and a four-year maximum. Perkins, represented by agent Arn Tellem, has opted to wait until he is an unrestricted free agent, when even in an unpredictable market he has a chance of commanding far more.

Obviously this just means Perkins wasn't satisfied with the offer he was handed by the Celtics. This doesn't mean he's walking out the door in Boston. But the Celtics have kind of made it their thing to low-ball players and hope they sign. They did it to
Rajon Rondo
and he ended up taking it. Perkins on the other hand, wants to try and bump up his price tag.
It's a risk on Perkins end though because of the uncertainty of the new CBA. Players like him may have their salary options scaled back, so Perkins is clearly stepping out a bit. But he knows he has serious value to the Celtics, especially with the life of the Big 3 having a timetable.
A lot of teams would love to have a 6-11 center that will bruise, bang and rebound while also providing a bit of offensive game. Perkins knows that and knows he has value on the market. Boston probably doesn't want to let him walk, but every team has its limits with money. And if Perkins gets a better offer, he'll by all means take it.