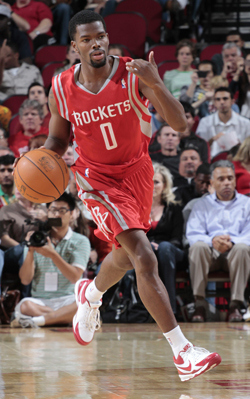 Posted by Royce Young
About halfway through the fourth quarter of Houston's overtime win against the
Grizzlies
Saturday, Rick Adelman subbed for
Aaron Brooks
. No big deal, just a substitution, right?
Wrong. Brooks, apparently not liking the swap, walked straight past the Rocket bench and into the locker room. Not because he needed some treatment or was injured. Nope, he was just mad about the substitution.
As a result, the
Rockets
have suspended Brooks for a game,
according to the Houston Chronicle.
He'll be sitting out Monday's game against the
Nuggets
and did not travel with the team.
Brooks, who battled injury early on during the season after winning Most Improved last year, has been relagated to a backup role for the Rockets. The reason though is simply because he hasn't played that well at all this year. He's forcing horrible shots and trying to do way too much. Two things that definitely don't fit into Adleman's share-the-ball system.
This type of stuff happens with players. They have egos. They have emotion. Brooks is obviously frustrated with the situation but surely is most frustrated with himself and his play. In the long run, this will be a good thing for him and probably for the Rockets. The team has underachieved and when that sort of thing happens, emotions boil over.
That doesn't excuse it, but it at least makes it understandable.