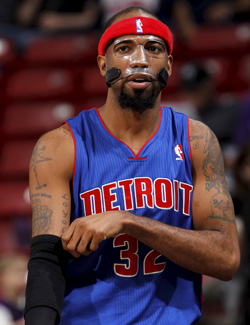 Posted by Royce Young
Well, I guess the
Carmelo Anthony
stuff is over for the Detroit
Pistons
. Because
Richard Hamilton
is back.
There's no real telling why Hamilton has been sitting the past few weeks and was even deactivated the past few games, but the obvious answer was that Rip was about to be traded.
But he made his return to the lineup last night agaist the
Bucks
, seeing his first action since Jan. 10. And Hamilton was pretty surprised by it.
He told the Detroit Free Press:
"It was kinda like 'Is this a joke? Is somebody playing a joke on me?' " Hamilton said. "I thought it was a joke. I had no idea. No idea. Just yesterday I was inactive.

"I thought that was sign that it was my last time ever playing in a Pistons uniform."
Hamilton scored 15 points in Detroit's 89-78 win but as the paper mentioned, Hamilton rolled his eyes when John Kuester called his name to go in.
That relationship has been extremely strained as of late, highlighted by the fact that Hamilton
wouldn't even meet with general manager Joe Dumars earlier in the week and said he was offended by Kuester.
So I wouldn't say the relationship is exactly all patched up by 25 minutes of playing time.
I'm not a big believer in "showcasing" for a trade because come on, we all know Hamilton can play, but there is that thought. Maybe the Pistons have a potential taker and want to show off that Rip still has a little something left.
There's no doubt Hamilton's time in Detroit is coming to a close at some point. The problem is his contract as it runs through 2013 and has some pretty big dollars attached to it. But as Hamilton showed against the Bucks, he can still play. It seems as if the Pistons are intent on moving him and might accept less than they think he's worth to get it done.
For now though, he's back in the rotation. The damage has been done already though and that's why something has to give if Hamilton is going to stay much longer in Detroit.