Boston Celtics guard Marquis Daniels was released from the hospital after suffering a spinal cord bruise and will reportedly miss at least a month. Posted by Ben Golliver.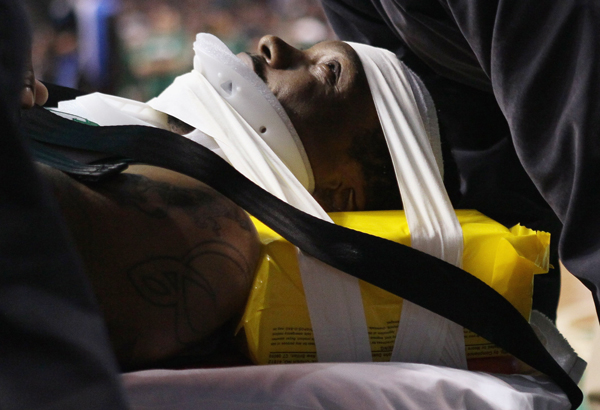 On Sunday, we noted
that Boston Celtics guard Marquis Daniels fell to the ground during the second quarter of a game against the Orlando
Magic
and was taken off the court on a stretcher with an apparent spinal cord injury.
Here's the latest on that scary scene in Boston: Daniels was released from the hospital on Monday morning,
according to the Boston Herald
, but he will miss "at least a month."
The Celtics were relieved, most of all, by the news Marquis Daniels had full movement and was responding to doctors yesterday following a fall that left the Celtics forward with a bruised spinal cord.
Celtics general manager Danny Ainge said after a 91-80 win over the Orlando Magic that Daniels will miss, "A month, two months. It'll be a month, anyway."
Daniels, a role player off the bench, is averaging 5.5 points and 1.3 assists in 19.1 minutes this season.
The Celtics should be able to manage his absence in a variety of ways. They have reserve guard
Von Wafer
on deck, are expected to get reserve guard
Delonte West
back
following wrist surgery
in the next few weeks and recalled rookie guard
Avery Bradley
from the D-League on Monday. Daniels' absence could also mean more minutes for starters like
Ray Allen
and
Paul Pierce
, but Celtics coach Doc Rivers has no reason to run his vets into the ground as his team boasts the best record in the Eastern Conference.